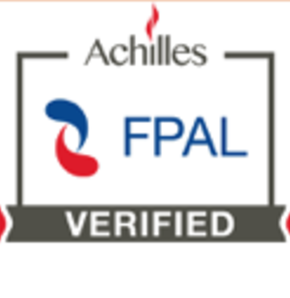 Hamburg, Germany, Monday, 22nd May 2017 – HANSA HEAVY LIFT has received a qualification certifying the company as a trusted partner for the oil and gas market from the Achilles FPAL Verify network, an industry-run assessment body that supports the European oil and gas industry.
The Achilles FPAL qualification is awarded to companies that complete a rigorous pre-qualification process, and ensures that suppliers working in high-risk and critical operations are sufficiently and independently audited to industry-specific standards.
"HANSA HEAVY LIFT is committed to providing best-in-class, bespoke solutions to our customers in the oil and gas industry, and we are delighted to have successfully received this new qualification following a detailed and thorough two-day audit by Achilles FPAL," said James Cook, Head of Quality, Health, Safety, and Environment (QHSE), HANSA HEAVY LIFT.
"The certification underscores the excellent standards we hold ourselves to in providing safe and reliable solutions for all our customers no matter the challenge, whilst minimising our environmental footprint, as well as our strong commitment to training initiatives."
Forty major national and international oil and gas companies have selected Achilles FPAL Verify as their preferred industry audit programme.
Achilles carries out an on-site audit of selected key information aligned to oil & gas industry QHSE and competence and training requirements.
These buyers also use the Achilles FPAL questionnaire to streamline pre-qualification and manage risk consistently among 3,500 oil & gas industry suppliers.
HANSA HEAVY LIFT scored above the industry average in the four key areas that were assessed, including Quality Management, Safety Management, Environmental Management, and Competence and Training.
As a result of being certified, HANSA HEAVY LIFT is able to share its capabilities and strong performance record in key business areas, as well as having access to high-quality, real-time data with other major organisations in the oil and gas sector that use the service.
"By participating in the FPAL Verify audit programme, HANSA HEAVY LIFT has demonstrated a clear commitment to meet the high QHSE and Competence and Training standards that this industry correctly demands," said Malcolm Wilson, Director of Achilles FPAL.
"The Achilles FPAL Verify programme includes an important and mandatory commitment to continuous improvement which meets the demanding requirements of this industry. This will help put the company in the best possible position to secure a pipeline of work opportunities from major oil and gas buyers."
HANSA HEAVY LIFT GmbH is the carrier of choice for the super heavy lift 900+ metric tonnes industry, delivering best-in-class engineering solutions to customers, particularly in the subsea, oil and gas, as well as the offshore wind farm sectors.
Their fleet comprises 17 fully-owned multipurpose heavy lift vessels equipped with state-of-the-art machinery, including cranes with a combined lifting capacity of up to 1,400 metric tonnes.
For more information about HANSA HEAVY LIFT, visit hansaheavylift.com