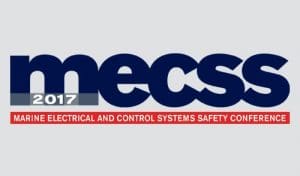 The University of Strathclyde's Power Networks Demonstration Centre (PNDC) is scheduled to play an important role for delegates at the third Marine Electrical and Control Systems Safety Conference (MECSS 2017) being held in Glasgow onWednesday 22 and Thursday 23 November, as it will host an Industrial Visit on Tuesday 21 November as a highly relevant precursor to the two-day conference.
Organised by FIGS Events Limited on behalf of the Institute of Marine Engineering, Science and Technology (IMarEST) MECSS 2017 is being held at the University of Strathclyde's Technology & Innovation Centre (TIC) in Glasgow. SAFETY4SEA and GREEN4SEA are among the event's supporters.
"Visiting the PNDC will provide our delegates with an interesting foretaste of what lies ahead for them at MECSS 2017," explains MECSS 2017's Chairman Kevin Daffey, Director Engineering & Technology, Marine at Rolls-Royce. "It is a venture founded by government, industrial and academic partners with the aim of accelerating the adoption of innovative research and technologies from early stage research into 'business as usual' adoption by the wider electricity industry including the maritime sector."
"This far-ranging facility's aims and R&D work tie in with the aim of MECSS – to rise to the challenge of the industry's fundamental responsibility of making people at sea safer.  As technical innovations get introduced into the marine industry, MECSS focuses on both the technologies and the human/system aspect of the technologies – and this is just the sort of work that is undertaken at the PNDC.
"We will shortly be launching the full conference programme, but we are eager to let prospective delegates know of this Industrial Visit starting late morning on Tuesday 21 November to ensure they book their travel and accommodation accordingly."
As Dr Campbell Booth, Reader at the University of Strathclyde and a member of the Technical Advisory Committee explains: "The University's electrical power systems academic team act as the basis for focussed and applied research that aims to engage with high value technology and systems requirements as defined by the industry partners. This unique facility enables highly realistic and accelerated technology testing alongside a rich portfolio of research programmes including state of the art Power Hardware in the Loop capabilities for real time simulation testing of marine power systems at the MW scale."
MECSS 2017 is aimed at senior international electrical power and technical engineers from the marine electrical control supply chain, design and technical authorities, merchant, commercial and navy industry personnel, ship owners and operators, class societies, safety assurance providers, automation systems manufacturers plus consultants and academia. Further information is available at www.mecss.org.uk and from mecss@figsevents.co.uk
MECSS 2017 Technical Advisory Committee:
The Technical Advisory Committee is drawn from experts in industry, academia and the military with the aim to develop and steer the technical programme for the event.
(Chairman) Kevin Daffey – Rolls-Royce
Dr Campbell Booth – University of Strathclyde
Paul Eaton – GE Power Conversion
Andrew Edmondson – BAE Systems Submarines
Duncan Gould – Disney Cruise Line
Pim Janse – Damen Schelde Naval Shipbuilding
Jamie McCarthy – Rolls-Royce Marine Electrical Systems
Dr Bob Meggs – BMT Defence Services
Kees Posthumus – Defence Materiel Organisation, the Netherlands
Jeremy Richardson – Shell Shipping and Maritime Technology
Helen Rickerby – BP Shipping
Derek Robinson – Babcock International Group
Peter Rogers – Wärtsilä SAM Electronics GmbH
C/O (SE) Mark Royston-Tonks RFA – Ministry of Defence, UK
Mel Scott – QinetiQ
Bernard Twomey – Rolls-Royce
Richard Vie FREng
Shaun White – Atlantic Pacific Marine