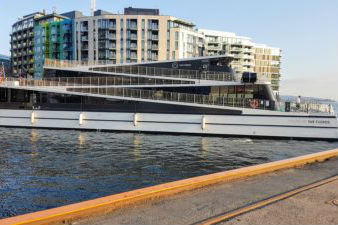 Cold ironing, as it is known,  has come a long way, and with hybrid power systems on the market, will likely evolve further as a new term, "electric bunkering", begins to be heard more.
This week K-Line said one of its Norwegian offshore vessels, KL Sanderfjord, had become the first to have a "shore power" notation by DNV GL.  This means K-Line contracted the class society to verify that the design and installation of the on-board electrical systems of the vessel met class requirements for systems which can take shore-sourced electricity onboard.
The vessel is now able to connect to electricity provided at the Port of Bergen, Norway, its home port. For vessels in Norway the ability to gain this notation, and similar notations from other class societies that have them, means that the vessels could also fall under the Norwegian NOx fund, a strong incentive over the years for many such initiatives in the country.
Shore-sourced power is a growing requirement in places like the ports of California and the European Union has said it wants European ports to be able to offer shore based electricity to ships by 2025. Read more…. within the Newsletter which follows in full:
INSIGHT In-depth topical analysis
| | |
| --- | --- |
| | Cold ironing, as it is known,  has come a long way, and with hybrid power systems on the market, will likely evolve further as a new term, "electric bunkering", begins to be heard more. More. |
FOCUS Short features and analysis