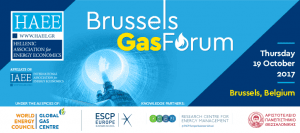 The future of Natural Gas in Greece and Cyprus in the context of geopolitical developments and the regulatory and economic policies of their governments, with emphasis on free energy market behavior, is the theme of the Forum organized by the Greek think tank for Energy Economics (HAEE), entitled "HAEE Brussels Gas Forum", on 19th of October 2017 at 17:00, at the European Parliament, Room Loyola de Palazio in Brussels.
The aim of the Forum is to exchange views and formulate specific projects to be proposed to the Commissioner of Energy of the European Union, MEPs in the Energy Committee of the European Parliament and to the governments of Athens and Nicosia. Its aim is to make Community regulations more effective in the rapidly evolving energy market environment of Greece and Cyprus, both in terms of alliances in regional and international formations, as well as in internal economic and political choices.
In order to reach this goal, HAEE, which is the Greek branch of the US-based international think tank IAEE, and constitutes a bridge of reflection and cooperation at a theoretical and practical level between the Greek and foreign energy institutions, uses some of the leading institutions of the energy world. These include the United Nations' body, World Energy Council, the international French Grand Ecole Business School, ESCP Europe, with postgraduate courses and campuses in London, Paris, Madrid, Berlin, Torino and Warsaw, the Research Centre for Energy Management (RCEM) headed by the President of HAEE, Professor Kostas Andriosopoulos, and the Aristotle University of Thessaloniki.
The main contributions will be made by the Commissioner of Energy of the European Commission Miguel Arias Canete, President of DIKO and candidate for the Presidency of the Republic of Cyprus Nikos Papadopoulos and MEP and representative of Nea Dimokratia Maria Spyraki. On the occasion of the Forum, there will also be a presentation of the report "The excise duty on Natural Gas when used as Feedstock".
Moderators of the discussions will be Dr. Kostas Andriosopoulos, and Dr. Theodoros Tsakiris.
Entrance to the event is free, but with limited availability. To reserve your seat you can register here.
In order to see the Conference Agenda, click here.
We look forward to seeing you at our event.