Princess Michael of Kent's new book A Cheetah's Tale
By James Brewer
"They are so beautiful – don't you love them?" says Princess Michael of Kent, gesturing to the slide on the screen. "They" are cheetahs, and Her Royal Highness speaks from the heart, for she helped nurture and rear a cub when she was a teenager spending time in Africa.
Her latest book, A Cheetah's Tale, is the story of her personal affection for a favourite among the graceful creatures, and for the entire genus. As she talks, she reveals her close knowledge of their lifestyle, and her deep concern over the danger posed by mankind to the species.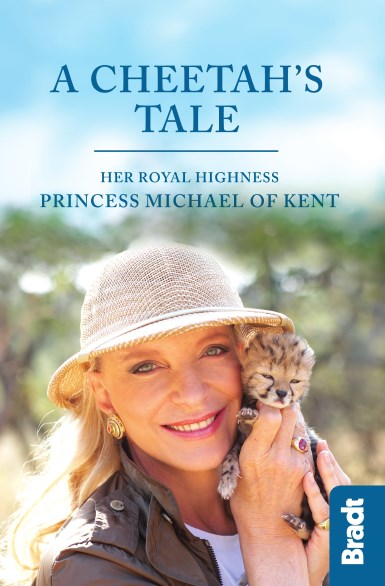 If you go on line and search for "how to buy a baby cheetah," there are some 20 sites which claim to be selling animals that are legally reared, but "[legally] they are not, because you cannot breed them in captivity," she told a London audience. "It is, all the time, a reducing population."
The princess was speaking at an evening promoting her book, the venue being Ognisko, the Polish Club in Exhibition Road, Kensington, where she signed copies for purchasers. Brisk sales kept her busy writing dedications.
Her heartfelt remarks came in conversation on the podium with Adrian Phillips, managing director of her publisher, Bradt Travel Guides.
The story laid out in the book has its origins in her "gap year" after school, which turned out to be two years. Marie Christine's father was living on a farm in Mozambique and she flew to Johannesburg to meet him and be taken there. She would be enthralled to listen "to my father's unlimited supply of animal stories, each more thrilling than the last."
She loved seeing the game: chimpanzees, giraffes, baboon and much more. Once when she got out of bed to go to the bathroom she saw a black mamba in the loo bowl. "In Mozambique there were snakes everywhere," but only some of them were dangerous.  There were house pythons that would chase the rats.
One night, after a female cheetah was shot and wounded, her father's people set out to look for its lair, and brought back a tiny daughter cub, its eyes not yet open. The baby was so small she could not have been more than a few days old, and nestled in the palm of her new 'mother.'
"I have always loved cats, and she looked so cuddly," Princess Michael recalled.
The cub was given the name Vitesse, after the French word for speed, which became shortened to Tess.
Forming an immediate bond with the lone creature, Princess Michael helped raise Tess to adulthood. She learned to feed, house and care for little Tess grow, watching her develop from a helpless kitten to a powerful, elegant creature, which had to be taught by humans to hunt for herself in preparation for her release to the wild. The outcome gives the book what the princess calls a "bitter-sweet ending."
The princess outlined how the Mughals brought cheetahs to India, and said that Akbar the Great was reputed to have had 1,000 cheetahs, although this may be a considerable exaggeration as it would have been hard to look after them all.
The animals were used as 'hunting dogs' and European aristocracy was impressed by their prowess. In a painting by Benozzo Gozzoli, Giuliano de' Medici is seen riding with a cheetah on horseback.
Cheetahs do not have fully retractable claws, so they run alongside to grab prey such as an antelope by the neck and suffocate it. Cheetahs have a 50% success rate in hunting, greater than the 50% record of lions. Unlike many other animals, the female cheetah chooses her partner – "Girls, think about it!" said Her Royal Highness, to laughter.
A litter contains up to six cubs, but the mother is lucky if two survive because she must go hunting; leaving them at the mercy of predators. Cheetahs need to eat fresh meat every day.
The cheetah, which weighs as much as 70 to 80 kg, is built like a Ferrari, designed for speed. They can go from zero to 70 miles per hour in three seconds.
The Princess lamented that there is a big trade in baby cheetahs in Ethiopia and Somalia. They are held in bird cages and sold at animal fairs.
Global population is 7,000 of which only 2,300 live in protected areas.  Most are in Namibia, but farmers kill them to protect their flocks.
Princess Michael said that cheetahs need vast open spaces and were unsuited to the confined spaces of zoos, although Whipsnade Zoo, Bedfordshire, provides good conditions.
Her experience with the orphaned cheetah in Mozambique led to a deep interest in conservation, especially of big cats. She is Royal Patron of the Endangered Species Centre in South Africa (predominantly cheetahs) and of the Cheetah Conservation Fund in Namibia.
She lives with her husband, Prince Michael of Kent, in Kensington Palace. Prince Michael, the first cousin of Queen Elizabeth, is the son of Prince George, Duke of Kent, and Princess Marina of Greece and Denmark
Among many charitable and public commitments, the couple support the promotion of British business and exports.
The new book has been called the cheetah version of Born Free, the story of Joy and George Adamson, who raised Elsa the Lioness in Kenya in 1956 and released her into the bush.
Joanna Lumley, actress and animal welfare supporter, has written: "What makes this book stand out is the princess's personal account of her own young life, re-connecting with an estranged father and meeting a loving step-mother, and adopting this small lost animal which she nurtured until the time to release it back into the wild… Beautifully written and vividly recalled, this story is immensely touching and illuminating: her descriptions of Africa are fresh and painterly."
Sarah Durant, a conservationist, commented that Princess Michael "explores the very human struggle between head and heart as she prepares to let go of Tess. Through her story we come to realise that cheetah are not ours to possess, but belong to the wilderness from where they came."
David Shepherd, who leads a wildlife charity, said: "This tenderly written account chronicles a story that is long overdue to be told: the survival of the graceful cheetah is at crisis point, yet again."
Tony Fitzjohn, field director of the George Adamson Wildlife Preservation Trust, of which the princess is patron, said that "here, in this tale of love, reflection and sadness lies the person I know who never lost her connection with nature and what it meant to her and now wants to share it with us all."
Previous books by the royal author include the non-fiction historical works Crowned in a Far Country, Cupid and the King, The Serpent and the Moon. In the genre of historical fiction, she produced The Anjou Trilogy: Vol I The Queen of Four Kingdoms, Vol II Agnès Sorel and Vol III Quicksilver.