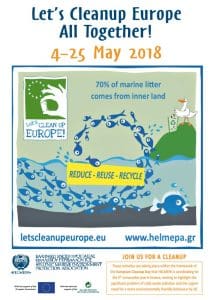 Every year, millions of tons of plastics and other litter pollute our seas, beaches, rivers, forests and other natural areas. This is primarily due to the lack of a heightened environmental awareness among the wider public that leads to indifference, as well as a lack of suitable infrastructure and waste management practices.
Aiming to project the serious problem of litter pollution and the need to prevent it, the Hellenic Marine Environment Protection Association-HELMEPA is coordinating for the 5th consecutive year in Greece, from 4 to 25 May 2018, the "Let's Cleanup Europe" Campaign, which began in 2014 with the support of the European Commission.
Τhe theme "End Plastic Pollution!" of this year's Earth Day, celebrated on Sunday 22 Αpril,  provides the ideal opportunity for this pan-European campaign to take action in the same direction. So let's demonstrate our environmental sensitivity and concern by organizing or taking part in the symbolic cleanup of a nearby beach, the banks of a river or lake, parts of the seabed, a forest area, a park or any other place in our neighborhood where there are plastics and other types of litter.
Students, parents, teachers, Port Authorities, Municipal and Regional Authorities, companies, Embassies, environmental organizations, mountaineering and nature conservation societies, scuba-diving clubs, sailing clubs, local associations, volunteer citizen groups. Already more than 1,200 volunteers from HELMEPA Member-companies, schools and public and private entities have scheduled 22 cleanups in the areas depicted on the map.
HELMEPA's website features the e-registration form and poster, guidelines for organizing your cleanup, the Data Card and other awareness raising material to support your action.
Those who wish, may collect separately plastics and other recyclable materials, which will be transported to recycling plants in cooperation with the Hellenic Recovery-Recycling Corporation (HE.R.R.Co.).
HELMEPA will process the information from the Data Cards and publish the results in order to contribute towards creating a better understanding of the issue and addressing it more effectively.