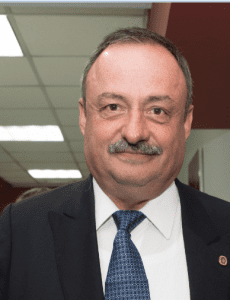 Mr. Didier Bouttier, Senior Vice President, South Europe, Middle East and Africa zone (SEMEA) retired at the end of September. In a distinguished career – spanning 36 years of dedicated service to the Marine & Offshore division of Bureau Veritas – he oversaw significant growth in the company's portfolio and a significant expansion in the fleet of BV Class vessels in the SEMEA Zone. 
Starting in 1982 as a surveyor in the Ships in Service division based in the BV Head Office in Paris he was to take on roles with increasing responsibility in Greece, the USA and China before returning to Greece to take on the leadership of the SEMEA Zone
With Mr. Bouttier's retirement, and to further support the market in an important area, a new regional management zone, the Hellenic, Black Sea and Adriatic Zone (HBSA) – centered in Piraeus, has been created.
Accordingly, to provide leadership in the new zone, we are pleased to announce that Mrs .Paillette Palaiologou has been appointed Vice President, of the HBSA zone. Mrs Palaiologou was previously Vice President, Regional Chief Executive for the Hellenic and Black Sea region. Between January 2015 and December 2016 she was Marine Sales & Marketing Director for the Marine & Offshore Division of the BV Group based in the Paris head office.
Mr. George Andreadis, Marine Manager for Greece since January 2017, steps up as Marine Chief Executive for Greece. Between 2005 and 2017 Mr. Andreadis was Manager of the Piraeus Marine Center.
In another important appointment, Dr. John Kokarakis is now Technology & Business Development Director for the HBSA Zone. He joined BV in 2007 and his previous role was Head of Technical Services and Technology & Business Support Director for the SEMEA Zone. Prior to BV, Mr. Kokarakis worked in the United States specializing in the technical investigation and analysis of marine accidents. Subsequently he was to hold senior positions in ABS and GL.
Bureau Veritas Hellas A.E., based in Piraeus is active in all the business lines of the Bureau Veritas Group with 173 employees in total, out of which 77 are in the Marine & Offshore Division.
The Hellenic, Black Sea & Adriatic Zone (HBSA) consists of eight (8) countries, managing a large clients' portfolio and covering a wide variety of activities, being active both as ship-owning countries and as shipbuilding countries also (mainly Croatia and Romania).