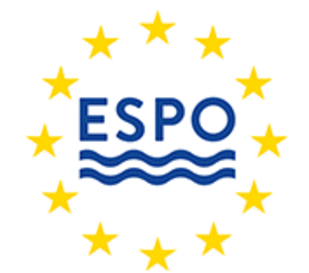 10 October 2018
The ESPO Award 2018 will go to the port authority that creates a good workplace environment for its current and future employees and demonstrates its investment in a diverse and inclusive environment, facilitating mutual respect, non-discrimination and personal development.
In the running towards the official Award Ceremony on 7 November 2018, ESPO will be presenting the four projects. The first project is:
North Sea Port
Cross-border staff integration North Sea Port (originally Dutch and Belgian port companies) – integration of 2 organisations with Dutch and Flemish employees into one organisation
ESPO: You are one of the four applicants of this year's edition of the ESPO Award. Could you briefly describe your project and why it fits into this year's specific theme, 'Ports as a Good Work Environment for Everyone'?
In December 2017, 'Zeeland Seaports' (NL) and 'Havenbedrijf Gent' (B) merged and became North Sea Port, a single cross-border organisation. Since that date and until now, North Sea Port has invested in (cross-border) company culture and management of integration. As a result, the merger has been completed with the official and judicial creation of North Sea Port on 29 June 2018. The merger is beneficial for both previous companies as they now witness an increase in profit, bigger critical mass, etc., and for the labour market in the region which benefits from a more integrated cross-border market.
Employees from both Belgium and The Netherlands now work together in mixed teams. In order to successfully realise this integration of two different cultures, several initiatives have been launched such as the creation of a 'post-merger integration team', working groups specifically targeting culture and paying attention to national cultural differences, the development of a new company culture and the publication of a single magazine for all employees of North Sea Port. Information was also given to employees on the small language differences between Dutch spoken in the Netherlands and Dutch spoken in Flanders (Flemish) and on how to work across borders.
ESPO: How does your project contribute to the societal integration of the port?
Thanks to the merger, many citizens living in the area got to know us as an employer. We increased our visibility as a big international employer and as an interesting place to work for a very diverse group of people with all kinds of backgrounds. In addition, following various projects such as the 'Harbour Days', a recurring tv programme on regional television channels about North Sea Port, newsletters, social media posts, the 'Harbour News Paper', and the 'Harbour Run', local people were actively involved in the project, which is in turn increasing public support for the Port.
ESPO: Could you describe the original and innovative character of you project?
This cross-border merger has a unique character in the European Union because it involves public shareholders, as opposed to cross-border mergers of private companies. Employees from two cultures integrated into one organization in only a few months' time. The project is also innovative in the sense that we want to promote a cross-border labour market by facilitating initiatives which create cross-border labour mobility.
ESPO: Why do you think your project deserves to win the ESPO Award 2018?
Because North Sea Port is pretty unique in Europe, having a cross border merger. Only one other port is cross border, namely Copenhagen Malmö Port. North Sea Port is unique because we have public shareholders.
Moreover, this merger has been realised in an exceptionally short period of time: from December 2017 until June 2018. This means that the regional political support in the region (the 8 public shareholders of North Sea Port) was very big, which shows this project is a great example of ports as a good work environment for everyone.
Spin-off effects of this cross border merger were realised in several areas:
in public transport/infrastructure: governments of both the Netherlands and Belgium are discussing possibilities to improve cross border public transport/infrastructure;
in the field of culture: cultural festivals and events are being promoted across the border (both ways).
The entitled authorities in both provinces are more actively engaged in facilitating a cross border labour market. All these initiatives were already there, but they were accelerated by this merger, because the organisations which are engaged in these initiatives noticed a bigger critical mass and higher pressure to act on problems which were there for years but became more urgent because of the merger.
ESPO: How would you make your experience in developing the project available to other ports?
As the slogan of North Sea Port expresses, together we are smarter. In this globalised but competitive world, with Brexit and other protective measures in the world, it is important for European ports to cooperate to remain competitive. We can only be stronger if we cooperate with the ports around us. Therefore we merged and we also cooperate with the Port of Rotterdam and the Port of Antwerp. We think it is important to look at the common goals and not to focus on the differences or competitiveness. We need each other in order to be able to remain competitive in the future and to be an important player in the world economy.
"Through the merger North Sea Port has overcome the barrier of a national border. Now we are with our colleagues in the process of overcoming the mental and cultural borders. Fascinating and a lot of fun!"
Jan Lagasse, CEO of North Sea Port