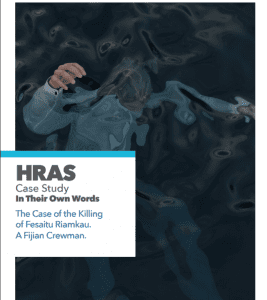 15 January 2019 Any advice for people going to sea? "It's up to them. Anything can happen at sea." Munivai Taukave Lorenti London.UK. Human Rights at Sea today publishes a new redacted case study, including witness statements detailing the background to the killing of Fesaitu Riamkau in Panama, a Fijian crewman working onboard a…
The post The Killing of Fesaitu Riamkau: A Fijian Crewman appeared first on Human Rights At Sea.
Press Release 8th January 2019 Legal Research Programme London. UK. Under the established Legal Research Programme, Human Rights at Sea today publishes Mr. Shadi Elserafy's thesis written in fulfilment of his Masters Degree in Peace and Conflict Transformation for the University of Tromso, The Arctic University of Norway. The Thesis is a doctrinal study on the…
The post Shadi Elserafy: The Smuggling of Migrants across the Mediterranean Sea: States' Responsibilities and Human Rights appeared first on Human Rights At Sea.
continue reading »Tweet this story: 
Help us to stop abuse at sea
We are building international advocacy platforms to challenge abuse at sea, but we need your help. You can donate to us via Paypal right now and help to give a voice to seafarers and fishermen all over the world who would otherwise go unheard.
Donate as much or as little as you can afford, monthly or as a one off:  :