Desmond Lachman on Brexit, David Marsh on ECB pressures, and more
11-15 March 2019 Vol.10 Ed.11
COMMENTARY
Missing out on monetary normalisation
The European Central Bank's postponement of its first post-financial crisis interest rate increases exposes it to pressures which will weigh on the bank's next president, writes David Marsh. The ECB could be bereft of monetary ammunition when and if the US Federal Reserve starts to ease interest rates.
PODCAST
Private debt and the next financial crisis
Raul Elizalde, president of Path Financial LLC, and Heikki Hiilamo, professor of social policy at the University of Helsinki, join OMFIF's Pierre Ortlieb. As the volume of household and particularly corporate debt reaches unprecedented levels, they explore whether this might trigger a global financial meltdown.
A financial system for a sustainable future
A discussion with Patrick Suckling, ambassador for the environment at Australia's Department of Foreign Affairs and Trade, exploring different approaches in transforming green finance.
Topics include promoting global policy standards to achieve sustainable finance initiatives.
REPORT 
Gender Balance Index 2019
This tracks the presence of men and women in senior positions of public financial institutions globally.
Gender diversity in central banks has improved by six percentage points since 2018, but the overall picture remains heavily unbalanced, much more so than the equivalent in the private side of the financial sector.
'Superstar firms' fuel price volatility
The rise of 'superstar firms' has caused a shift in structure of product markets. With advances in technology, firms' market power has risen, as has price volatility.
This complicates central banks' job and muddles the transmission of inflation policy via prices, writes Pierre Ortlieb.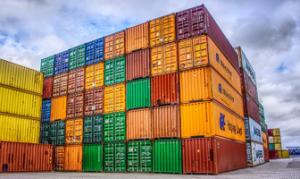 MEETING 
OMFIF-WTO seminar: Global trade tensions 
Increasing trade tensions as a result of China-US relations and Brexit have put trade at the centre of global economic debate.
The World Trade Organisation and OMFIF organise a seminar on global trade tensions. Topics include trade in services and geopolitical challenges to the world trade agenda.
COMMENTARY 
US must pay greater heed of Brexit
It is tempting for Washington to dismiss the UK's Brexit crisis as a problem affecting a former imperial power with little relevance to the US. That would be a grave mistake, writes Desmond Lachman.
At a time of global financial market fragility, it would be in the US interest to promote a healthy UK and Europe.
MEETING 
Developments in the US economy
Washington is sending mixed messages about the health of the US economy.
Patrick Harker, president and chief executive officer of the Federal Reserve Bank of Philadelphia, will discuss the US economy, global macroeconomic developments and the Fed's monetary policy outlook.
OMFIF network debates inflation measures
Vicky Pryce, board member of the Centre for Economics and Business Research and part of the OMFIF advisers network, and Pierre Ortlieb, OMFIF economist, debated in Tuesday's City A.M. the virtues and vices of various measures of inflation, and how institutions can best express modern consumption habits. Read more.
The future EU-UK relationship
Philip Rycroft, permanent secretary for the Department for Exiting the European Union, will discuss developments within the UK and EU's relationship and the options moving forward.
Topics will include the state of the negotiation process and next steps, as well as legislating for the UK's exit.