Midweek blues: The BDI continues to fall…
The BDI (Baltic Dry Index) lost three points despite Panamaxes' good performance; geopolitics still very perplexed. What an excursion that was ending the four day 14th Panama Maritime's Convention events. John Faraclas' daily brief recap supported by Anny Zade's video:
The BDI approaches the 700 point threshold following its fall by three points to 709!
The Capes' BCI lost 22 points and now reads 399 – the 400 point threshold has been lost. Things with Capes become crucial. Just imagine it they go below the 300 and 200 point threshold…  eh!
The Panamaxes' BPI was up 40 points and it looks certain same will go soon over and above the 1,000 points. 962 it's a good breathing mid-week space…
The Supras' BSI clinched seven points and now reads 796 points!
Any plus point counts and the three points the BHSI gained was more than good… At 446 the BHSI begins to feel "safe"…
Mixed feelings with the Wets; the last published BDTI (Dirties) and BCTI (Cleans) stood at 715 – minus 15 and 627  – plus 14 points respectively.
The WTI stood at US$ 59.76 slightly higher from yesterday's US$ 58.91… C A U T I O N !!
The Geopolitical situation remains more than heated and indeed perplexed:
MIGRANTS still the number one issue.
BREXIT: Will in nine days all will come to an end or the shit will hit the fan?  EY reports that £1 trillion has "left" UK as well as 7,000 (seven thousand) banking and financial sectors' jobs due to BREXIT…
The Boeing 737 Max accident still creates many "airwaves" and we look forward to the report from the respective aviation authorities…
In the East Med now: energy cooperation between Cyprus, Greece and Israel brought together all three nations leaders in Jerusalem with the exceptional presence of USA's Secretary of State Mike Pompeo! Well done!!!
In the Aegean Sea today Turkey continued to violate Greece's and European Union's airspace 35 (thirty-five) times. There was also a dogfighting… between Greek and Turkish warplanes… CAUTION!
In Canberra the PM of Australia said that president Erdogan's statements on the Christchurch despicable disaster with the Mosques were insulting. The Turkish president "sees" conspiracies… as always behind everything!
In the USA, the FED announced that it will not increase the interest rate; whether this will help the American economy remains to be seen…
As we are in Panama with too many things to attend due to the 14th Panama Maritime Convention we just bring you limited international news as shipping gets affected one way or another… This coming Friday though with the weekly recap we will be back in order.
On another tone and note the last day of the exceptional 14th Panama Maritime Convention was more than exceptional with an excursion / technical tour so to speak at the expanded Canal Locks, Aqua Clara, Atlantic Visitor Centre, Port Manzanillo International, MIT, The Valued Added Centre, Wallenius Wilhelmsen Solutions and back to Panama Pacifico!
We set up early morning from the Hard Rock Hotel – thanks to Posidon, with an UMIP Pullman (Universidad Maritima Internacional de Panama)  as the traffic both ways, due to major road works –  bridges under construction), parks and other construction developments was horrendous! Never experienced such traffic jams but the tour compensated all 60 or so delegates, speakers, moderators and organisers.
We had excellent guides in the pullman as well as in the centres we visited. One of the best tours of our life! The exciting environment, the works and especially the Expanded Canal Locks will remain always in our mind.
First stop was at the Panama Pacifico Centro De Visitantes where we were given an excellent presentation on the model city there and developments; superb!
We then visited the Panamerica Corporate Centre, the former USA's base which has been converted to a little town and offices, depos – all that brings and makes investments there supported by the airstrip too! Major conglomerates: Liebeherr Panama S.A., PPG Industries Panama Inc., Intercontinental Logistics Corp., Alliance Transport (ATL).,  Grupo TLA Panama, Transportes Internacionales Tical,  FedEx Express, BP Logistics, 3M, J Cain & Co. you name it were there!
After crossing the entire former American base and the Canal we ended up at the Wallenius Wilhelmsen Solutions Centre/depo for another guided tour.
There tractors and other major earth equipment are being reassembled and then off to the Markets – cars, trucks, rolling equipment and breakbulk. Companies such as Komatsu at the forefront! A very well organised business! Indeed defining logistics for a world in motion! A great hub!
Airplane-style dinner at the well climatised Pullman with local delicacies and very refreshing drinks and then on our way to the New Locks of the Canal De Panama! What an experience that was! A thousand visitors from other visiting groups – mainly Germans were spread at the amphitheatrical viewing platforms. A unique viewing and experience watching man-kinds progress on these earth / sea major works!! Technology at its best!! The New Panama Canal Locks! A triumph of technology putting shipping at the forefront of business!
A great, spectacular viewing passage through the New locks by OOCL's "OOCL Chongoing" container vessel; she can carry 13,208 TEUs!!!
Immediately after her passage whilst passing by from the "Memorial Capsule" so to speak of the 100 years of the Panama Canal dated September 2014, it was the most appropriate moment for www.allaboutshipping.co.uk to thank and honour Captain Orlando Allard the heart and soul of these Panama Maritime Conventions and in particular the current 14th one with a special book of Chios, the Greek Island whose shipowners and ship-managers as well as seafarers hold the top position in figures crossing the Panama Canal since its construction.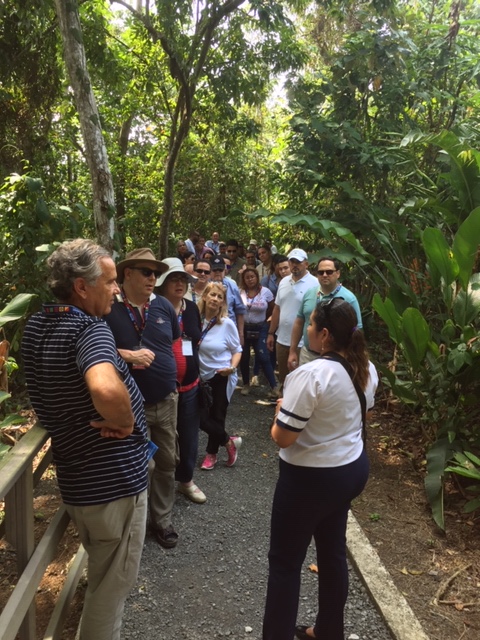 Afterwards another special tour; the environment and the preservation of natures at the Sendero Tropical del Atlantico – the Atlantic Tropical Trail! Our guide was more than well-educated and familiar with everything. Most of the plantation – trees, bushes, plants and flowers bearing ancient Greek names in a Latin "conversion" to use the right word! Take for example the "wild grape" = Teta de Chola = Pentagonia Macrophyla – Familia/Family Rubiaceae! Excellently and wisely built reservoirs to keep them also going… After all phytology is more than a Greek word!
On the way back we viewed the Port of Manzanillo, the French Cemetery, small towns and villages until we finally entered again Panama City. An extra plus hour drive and we congratulate our driver for his patience!!
We wish all our viewers to make it to Panama; it's a unique experience and for myself a pilgrimage in a country connected with my family and Shipping. Having arrived for the first time in 1954 – and with many trips thereafter until 1970,  this trip brought back many memories of the family, ships and career in Shipping. Its good also to have many local friends – making new ones too, as well as meeting friends and colleagues from the world of shipping!
A quite evening with friends at the Ochoymedio Restaurant in the old town – which celebrates 500 years today; excellent red salmon and unique dips with tropical salads and inspiring wines!
Have a nice evening and continue to be on guard/alert from actions emanating by Pirates, Terrorists, Criminals and Business Hooligans whatsoever wherever you are on Planet Ocean!