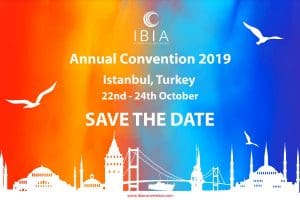 With the IBIA Annual Convention 2018, in Copenhagen rated as the #1 Convention of 2018 in the Global Shipping industry, by AllAboutShipping.co.uk,  the IBIA Annual Convention 2019 promises to be even better.
The International Bunker Industry Association (IBIA) would like to see you at the IBIA Annual Convention 2019, on 22th-24th October 2019, at the Ciragan Palace Hotel, in Istanbul, Turkey.
The IBIA Annual Convention is one of the most anticipated Bunker and Shipping events, held annually in different countries around the world, with highly acclaimed speakers, sponsors and delegates. 
In addition to our two-day IBIA Convention and Exhibition, delegates have the opportunity to join our industry-leading IBIA Bunker Training Course and our workshop.
Conventionally attendees, include Ship Owners, Bunker Suppliers, Traders, Port Authorities, Regulators, NGOs, Brokers, Lawyers, Surveyors and Academics.
IBIA has arranged a dynamic series of sessions in many diverse topics, which will cover a broad spectrum of issues, with an emphasis on the future challenges facing the Bunker and Shipping Industry.
IBIA is the voice of the global bunker industry and represents every aspect of the industry value chain from Suppliers to Buyers, Traders, Brokers, Port Authorities, Regulators, Surveyors, Ship Owners, Barge Operators, Testing Companies and a host of other service providers.
Sessions will include:
IMO 2020 Update, Compliance and Enforcement

2020 Fuel Challenges – Are we ready?
Technology & Fuels Beyond 2020
Leadership Panel
Commercial Aspects
Ship Owners Panel
Turkey – An example of 2020 Readiness
To secure your place with our early bird offer you can register until 10th May 2019, to take advantage of this special rate: Click Here
To view the Sponsorship Opportunities Click Here.