OMFIF Update 8-12 April 2019 Vol.10 Ed.15
Sergio Fabbrini on the future of Europe, Mojmír Hampl on China and the West, and more
COMMENTARY 
Beijing ready to 'China-ise' the West
China is enjoying growing wealth because the authorities have set loose beneficial market forces. Many western firms have profited and many more crave the country's custom. This means Beijing can now take the route of 'China-ising' the West, including by promoting wider use of the renminbi, writes Mojmír Hampl.
Ahead of the ECB
Samy Chaar, chief economist at Lombard Odier, and OMFIF's Danae Kyriakopoulou discuss the policy outlook for the European Central Bank. They analyse the macroeconomic backdrop behind the recent dovish signals coming from the ECB, especially the weakening economic outlook in Italy and Germany.
Belt and Road initiative
Bringing together policy-makers and private sector investors, this seminar will focus on navigating regulation and governance attached to China-led Belt and Road projects, especially regarding how to implement, assess and manage environmental, social and governance initiatives.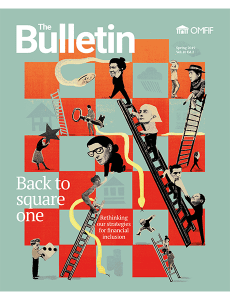 THE BULLETIN
Back to square one
Deepening financial disparity risks causing massive damage to the world economy and upending incumbent political structures. Law-makers are drifting further away from the political centre. These themes are addressed by a troika of OMFIF economists, as well as representatives of multilateral institutions and central banks.
France, Germany and the future of Europe
Europe continues to be prisoner to a bygone concept of sovereignty. Setting European sovereignty against national sovereignty is a mistake that would come at a high price. France and Germany are aware that the EU must decide how to face up to the threat of disaggregation, writes Sergio Fabbrini.
Central bank digital currencies
In response to developments in the crypto-asset market, central banks are considering the practicalities, benefits and potential consequences of implementing central bank digital currencies. OMFIF convenes a panel to discuss progress in the field of CBDCs, and some of the challenges for financial actors.
In conversation: Amias Gerety
Mark Sobel, US chairman of OMFIF, speaks with Amias Gerety, former acting assistant secretary for financial institutions at the US Department of the Treasury. They discuss macroprudential policy in the US. They focus on the Financial Stability Oversight Council, including its role in the wider economy.
'Submerging markets' pose global threat
Given their small size, the Argentine and Turkish 'submerging markets' cannot by themselves constitute a significant threat to global economic recovery. The same might not be said of Brazil and Mexico; both appear vulnerable to crisis and shaky economic stewardship, writes Desmond Lachman.
US-China trade relationship developments
At this roundtable, Hung Tran, former executive managing director of Institute of International Finance, will argue that it is important to assess US-China trade relations from a wider perspective. He will discuss how Washington's view of its relationship with Beijing has changed.
Brexit: The state of UK politics
Dominic Grieve, member of the UK parliament for Beaconsfield, will discuss the legal implications of the UK's withdrawal from the European Union, and the increased role of parliament in the decision-making process. Further topics include the state of the Conservative party and its leadership.