A reminder from IBIA: Early Bird for the IBIA Annual Convention 2019
Take advantage of our special early bird rate and join us at the IBIA Annual Convention 2019, on 22th-24th October 2019, in Istanbul, Turkey.
SAVE €200 when you buy an Early Bird Convention ticket.
Available until 30th of June 2019 
REGISTER FOR YOUR EARLY BIRD TICKET(s) HERE
 The IBIA Annual Convention 2019, hosted by the Turkish Chamber of Shipping, is one of the most anticipated Bunker and Shipping events in the industry, with highly acclaimed speakers, sponsors and delegates. 
 We already have more than 50 companies participating including: Trident Aliance, BIMCO, Simms Showers, LRFobas, Cockett Group, Peninsula Petroleum, Bunker Holding, Intertek, S&P Global Platts, Turkish Chamber of Shipping, Methanol Institute, Probunkers, Arkas, Turkish Bunker Association, Terpel, Bunkerspot, Petrospot, Energy Petrol, IstanbulBunkerGroup2020, Med Petroleum, Asmira, Manifold Times, All About Shipping, Ship and Bunker, Safety4Sea, Socar Energy, Petrol Ofisi.
 Topics that will be covered at the conference:
·       IMO 2020 UPDATE, Compliance and Enforcement
·       2020 Fuel Challenges – Are we Ready?
·       Technology & Fuels Beyond 2020
·       Leadership Panel
·       Shipowners Panel
·       Turkey–an example of 2020 Readiness
In addition to our two-day Convention and Exhibition, delegates will have the opportunity to join our industry leading IBIA Bunker Training Course and ourWorkshop.
Official Convention Website www.ibiaconvention.com/
Sponsorship opportunities: Click Here
We are expecting 200 stakeholders from across the sector, including bunker buyers/consumers, bunker providers (oil majors, independent suppliers, traders), regulators, port authorities, various service providers and consultants to forge connections, exchange views, educate and prepare for the changes ahead.
The IBIA Annual Convention 2018 declared last year as The #1 Industry Conference for 2018 by AllAboutShippingco.uk.
Watch last year's convention video .
We would like to thank our sponsors, supporters and media sponsors.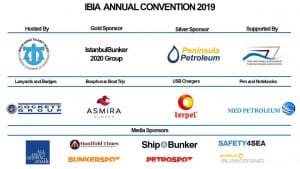 We are looking forward to welcoming you.
IBIA Secretariat