The 125 Kieler Woche closes with 3 hot medal races
Nacra 17
It's a four way shootout in the Nacra 17 between Austria, Denmark, Italy, and Germany. The Spanish got shuffled back to 6th after two UFD's in a row leaving just the top four to do battle one more time. There is a six point gap from the lead to fourth, so some buffer is there for the Austrians.
Italy picked up 8 points in penalties, 25% of their total points due to not signing in and out on the first two days. Otherwise the duo who recently won the Sailing World Cup final would be taking a lead into the medal race instead of chasing.
49erFX
Jurczok and Lorenz (GER) take a six point lead into the medal race. The duo dominated the two breezy days that started this regatta and will be looking to secure their first ever victory in Kiel Week. No doubt that's been a dream of these German sailors since their youth, but a slip up could see that dream postponed yet again.
49er
The 49er fleet is incredibly close. Nine of the Ten boats in the medal race can win gold. There are nine different nations in the race, and all ten boat are fighting for a medal.
World beaters Burling and Tuke have struggled in the light air gold fleet so far, with a 6, 14, 14, 15, but could break back onto the top spot with the right finish order today.
In the lead, the poles will be looking to secure this major title, and prove they can stand atop a 49er podium, having previously been held to the secondary steps at other major championships.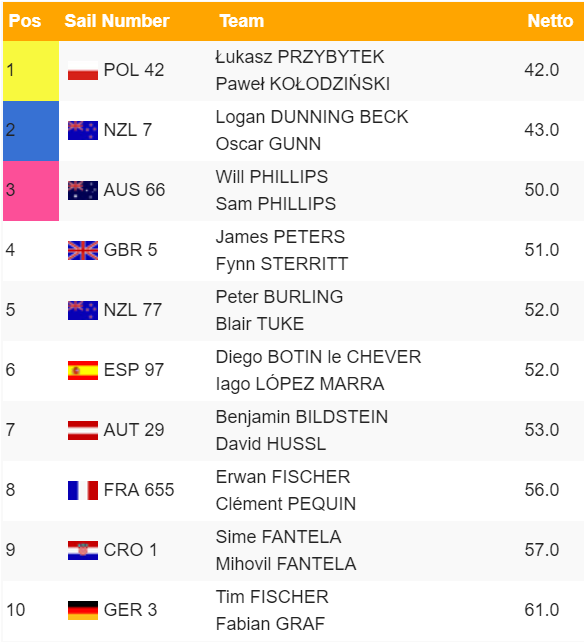 Regatta information
Schedule:
Wednesday 26 June        1300                    Qualifying Races
Thursday 27 June             1055                   Fleet Races
Friday 28 June                  1055                   Fleet Races
Saturday 29 June              1055                   Fleet Races
Sunday 30 June                 0955                   Medal Races
The 49er and Nacra 17 classes are sponsored by Magic Marine.  Head to our store to pick up some of their amazing gear.
Copyright © 2019 9er Inc, All rights reserved