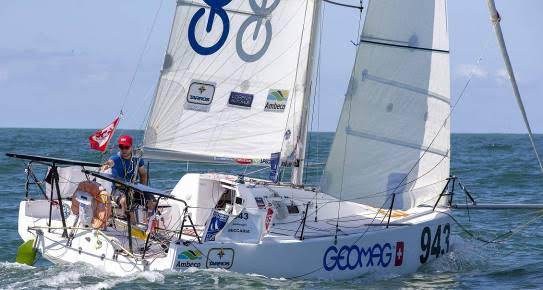 Production boats: a wide open playing field
To note:
– The production Minis make up the bulk of the fleet with 65 entries
– 60 rookies, 5 'repeat offenders', 7 women in this category
– Who are the favourites?
Among the 87 sailors competing in the 22nd edition of the Mini-Transat La Boulangère, 65 will be setting sail on production Minis, seven of whom are women. Just five of the competitors are 'repeat offenders'. Among them, Italian  Ambrogio Beccaria sports the label of favourite. That said, rumours circulating the dock suggest that there are several contenders for a spot on the podium and outright victory from within the Pogo 3 ranks and also some of the scow bows. However, for many of the competitors, the primary challenge is to finish the race, even though the competitive spirit is palpable throughout the fleet.
Ambrogio Beccaria, Nicolas d'Estais, Kéni Piperol, Pavel Roubal and Bruno Simonnet are the only sailors in the production boat category to have already participated in the Mini-Transat La Boulangère. The remaining 60 skippers are rookies.
 Ambrogio a cut above the rest?
In 2018 and 2019, Ambrogio Beccaria (943) has snaffled nearly all the prizes with wins in eight of the eleven races (including Les Sables-Les Açores-Les Sables). Armed with these results, he's inevitably been labelled as favourite and assumes this status. "I make no secret of the fact that it makes me feel somewhat pressured", admits the Italian skipper. "However, I'd feel more under pressure if one of my rivals had won eight out of eleven races over the past two years! I'm remaining calm and I'll do what I know best." Though Ambrogio has frequently dominated play, he did suffer a bit of a knock-back in July however, finishing in 12th place in the Transgascogne. It may be an added source of motivation for his rivals, some of whom have really managed to raise their game of late and who could pose a real threat.
A series of Pogo 3 favourites
When you ask the sailors to list the favourites, six names come up most often: Ambrogio Beccaria, of course, together with Amélie Grassi (944), Matthieu Vincent (947), Pierre Le Roy (925), Félix de Navacelle (916) and Nicolas D'Estais (905). Other regulars include Sébastien Guého (909), Lauris Noslier (893), Julien Letissier (869), Benjamin Ferré (902)… All of them are sailing Pogo 3s.
"It's not a one-design but we're not far off it," explains Amélie Grassi. "Though my rivals in Pogo 3 are finishing ahead of me, it won't be because they have a better boat. The idea of battling it out on similar machines is exciting, in fact it's one of the reasons I chose to sail a production Mini. There could be very little separating us in this race. We'll have to be in the match from the get-go as everyone's quick and canny. It's going to be so much fun!" Matthieu Vincent is equally delighted by the density of the standard in this year's edition and is keen to highlight the particularity of the Mini-Transat La Boulangère in relation to other races on the Mini circuit: "It's as if we'd been doing 10km runs and then suddenly switched up to a marathon. It's a whole different ball game. The Mini-Transat is another adventure entirely and there may be a few surprises in store. I've never sailed for such a long time on my boat. It's going to be a steep learning curve on a technical and personal level."
Profiles like that of Pierre Le Roy (925), meteorologist at Météo France, may well prove formidable in terms of strategy and trajectories offshore. "The Mini-Transat is the kind of race that suits me. The longer the course, the more weather strategy is involved and the better I fare," confirms Pierre Le Roy.
Serious contenders among the scow bow club
This year, the production scow bows are making their debut in the Mini-Transat La Boulangère with two models: the Maxi 6.50 (Raison design) and the Vector 6.50 (Bertrand design). The most honed  skippers in this particular club would appear to be Paul Cloarec (951) and Kéni Piperol (956). The latter is one of this edition's 'repeat offenders' and finished 4th in the prototype category two years ago. "My goal is to do better", announces the sailor from Guadeloupe. "It takes a lot of time to make this new boat reliable, optimised and trimmed right and I would need another six months to know her inside out. But anything's possible, I haven't set myself any limits."

65 entries and as many objectives and epic tales to tell
Though a good ten or so skippers are targeting the top spots in the production boat category, the profiles and objectives of the other sailors are very varied and you can't rule anybody out. All have made sacrifices to get here and all have a great story that deserves to be told. One of those is the only Briton in this year's race, Joe Lacey on a Raison design Maxi 6.50 No.963. "When I started the project I absolutely wanted to win and I think I have the boat that's capable of doing that, though I'm not sure I'm necessarily at the level. The problem is that the boat was launched 6 months later than planned and then it spent some time in the boatyard having some repairs and things done in that time and so I haven't been able to put in the time into training that I think is probably necessary, certainly if you're to set out as one of the favourites, but you never know…" he teases. "I'm not completely giving up on that! If I sailed better than everyone else then I'd win because I've got a good boat, but that's easier said than done! I'm not really setting myself any targets. It would be great to finish and then finishing in a fairly average place would still be an achievement as I've never sailed across the Atlantic. Obviously if I won that would be even better! I've trained in Lorient against the best skippers that are winning races and I can go as quickly as they can so it means that it's technically possible. But so far, when I've done races, I haven't sailed as well as them. I've made tactical errors and I've never finished as one of the front runners, but if I sail really well there's no reason why not!"
More info at www.minitransat.fr