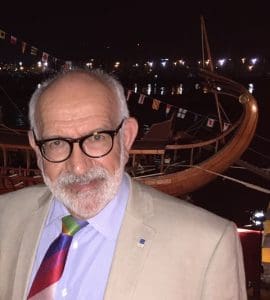 The BDI@1,809; what a fall amid messy geopolitics
14 points were lost from the BDI (Baltic Dry Index) earlier on today; all Dry Indices in red! John Faraclas brief market recap:
The Capes' BCI was down 37 points and now stands at 3,232 points…
The Panamaxes' BPI was down too at 1,745 points – minus 21!
The Supras' BSI lost 17 points and now reads 1,231!!!
The Handies' BHSI lost four points and now stands at 684.
Mixed feelings for the Wets…
The WTI ended down at US$ 53.62; hooray!
The Geopolitical situation remains messy and wonder how the politicians and diplomats will tackle safely and successfully this despicable situation in all fronts all over Planet Ocean. Wonder also how the 7.8 billion people will accept or reject and by what means this perplexed situation with incalculable repercussions for all. A MUST to settle the MIGRANTS issue before it is too late!! This is an SOS Warning!!!
Today marks the  Anniversary of  the Independence Day of Cyprus and this is also a timely message and warning for Turkey's Erdogan: hands off Cyprus.  Also for the international community: end this hype. Enough is enough!  
Today is also ex British PM Theresa May's birthday!
On another tone and note all eyes are …locked-in for:
The 9th Capital Link's event tomorrow at the Divani Caravel Hotel, Athens on Operation Excellence in Shipping
and
The Intercargo's two day meeting at the Theoxenia hotel north of Athens on the 3-4th of October were too many issues will be aired! Watch this space!
Have a great month and try to look at the bright side of things but remain on guard from actions emanating by Pirates, Terrorists, Criminals and Business Hooligans whatsoever wherever you are on Planet Ocean.