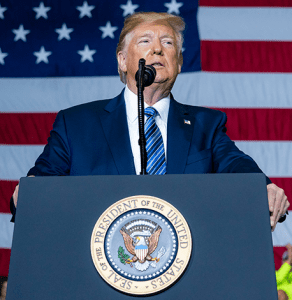 US economy may derail Trump 2020 victory, Japan's economy: Challenges and prospects
Thursday 30 January 2020 –  Vol.11 Ed.5.3
Commentary: US economy may derail Trump 2020 bid
By Desmond Lachman in Washington
James Carville famously remarked that when it comes to winning elections 'it's the economy, stupid'. This dictum has led many observers to surmise that the strong US economy makes Trump's re-election in 2020 nearly certain. But between now and November there can be many an economic slip. This was the lesson that Republican hopeful John McCain learned as the US and global economies collapsed on the eve of the 2008 presidential election, after having started the year on a seemingly sound footing.
Read the full commentary on the website.
Meeting: Japan's economy – Challenges and prospects
Friday 7 February, London, 10:00-11:45 GMT
While Japan's economy has grown above potential, it faces a range of challenges stemming from its aging and shrinking population, concerns about financial vulnerabilities in a low interest rate environment, and low consumer and investor confidence in the future of the economy. Toshiyuki Miyoshi, head of the front office of the international department in Japan's finance ministry, will discuss how national policies can be better coordinated and mutually reinforcing to tackle these challenges.
Request to attend the meeting.