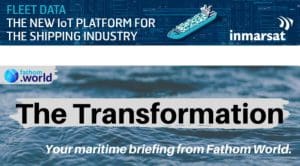 Your Transformation Update from Fathom World
Hello again,
Yes, this week we stick with the wind theme as we look at one man's dream. It seems to me that the push for wind-powered or wind-assist solutions incudes some very particular individuals with a determination and drive that comes with an ability to persevere. Brian Boserup is one such person, and he has had to work hard to get to where he is now, and he certainly still has a way to go to realise his goal. But he believes he can do it, and that shipping can transform and decarbonise.
Also in this week's newsletter we hear from another individual, Robert O'Dwyer at Smart Maritime Council about driving digital standards in shipping. When the discussion about digitalisation reaches that level then we know we are well into our digital journey.
And what about 3D printing in shipping? Brian Dixon looks at what is the hype and what is the reality.
And we have our continues look at some of the startups in maritime we think are set to make an impact. This time it's Sirius Insight and SmartShip.
Have a great week.
Craig
Editorial Director and Owner, Fathom World.