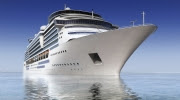 Clyde & Co – Coronavirus and the impact on the cruise industry
The cruise industry is the fastest growing sector of the travel industry, with an increase in demand of 20.5% in the past five years. Around 26.7 million people took a cruise in 2017, whereas around 28.5 million passengers chose to go on a cruise in 2018.
The recent and on-going global outbreak of the Coronavirus (COVID-19) has created a high degree of disquiet amongst the public as to the maintenance of health and safety on board cruise ships. Fears within the industry are that the impact of COVID-19 will affect sales for a long-time, particularly in the Asian market, which has become a very important market for cruise companies in recent years.
Marie-Anne Moussalli

Legal Director

Ioanna Tsekoura

Associate