STS Equipment Webinar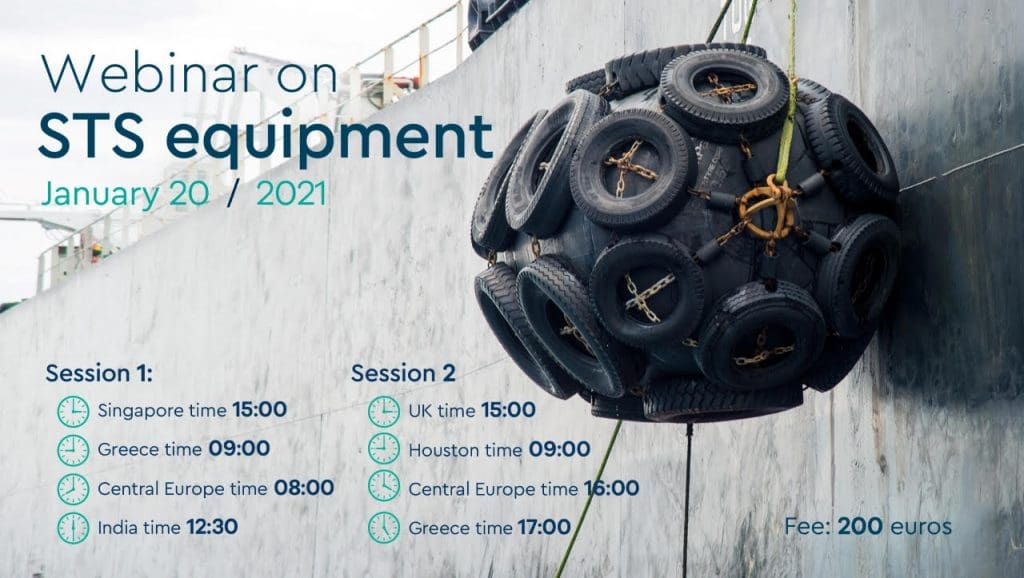 Dear Friends,
Happy new year to all of you!
A new year has come and another webinar has been announced by DYNAMARINe Academy!
This webinar will present and discuss the characteristics of pneumatic fenders and STS hoses. A lot of questions have been raised lately over the life span of the fenders and hoses. We shall present current industry standards, best practices and failure modes observed, as reported within OSIS database.
Proposed due diligence practices will also be described during the assessment of the STS equipment, prior to commencement of the STS operation. We shall also present SMS related processes, in case your vessel is a dedicated LSV with permanent equipment onboard!
The Topics to be discussed in the webinar of the 20th of January are the ones below:
Description of STS Equipment
ISO, OCIMF, IMO, ISGOTT requirements/guidelines on STS equipment
Testing and Certification principles
Major failure modes
Reviewing of the certification by the Master, as part of a due diligence practice and response patterns
Visual inspection requirements and proposed actions
A certificate of attendance will be issued by DYNAMARINe Academy!
Panelists will include DYNAMARINe personnel and industry representatives to comment/discuss and share their experience. The panelists' names will be announced soon, so STAY TUNED!
To register through your organization invoice, please contact us at info@dynamarine.com . The e-mails of individuals to be registered, will be needed to complete your registration. Individual registration takes place through the form of ZOOM in one of the links below.
Who should attend: Ops department, HSQE, Vetting, Cargo reps, Masters and Senior Deck Officers
When: 20 January 2021
Duration: 2 hours 30 minutes
Time: Either 07:00 GMT or 15:00 GMT to fit on your time zone
Participation cost: Euros 200. 10% discount applies for all clients of onlineSTS.net!
Registration
Morning Session (07:00 GMT):https://us02web.zoom.us/webinar/register/WN_T-tyFnj7S9-gcMuuQxxpMA
Afternoon Session (15:00 GMT): https://us02web.zoom.us/webinar/register/WN_GkXnivs6ShaNeHmXuCTuhw
Looking forward to seeing you at the webinar.
Best regards
DYNAMARINe Team