DNV GL – Greece Press Conference 2021 kicks off the celebrations for 100 years of DNV GL in Greece
Piraeus, Greece, 05 February 2020: Ioannis Chiotopoulos, Vice-President and Regional Manager of South East Europe, Middle East & Africa, commemorated the 100 years of DNV GL's presence in Greece at the DNV GL – Greece Annual Press Conference, which was held via virtual means for the first time. Chiotopoulos announced the celebrations of this milestone that will follow though the year, while taking the opportunity to express gratitude to his team for the great work and efforts made, especially during the extraordinary times that the industry is facing.
His Excellency, the Ambassador of Norway, Frode Overland Andersen, DNV GL's honored guest, addressed a short speech, focusing on the close links between the maritime sectors of Greece and Norway, and how DNV GL embodies and forges those links through the 100 years of its history in Greece. His Excellency also referred to Norway's maritime industry, heavily investing in green technology and electric ferries, with DNV GL again on the forefront of the development, being involved in cutting-edge projects on alternative fuels, electrification, and automation.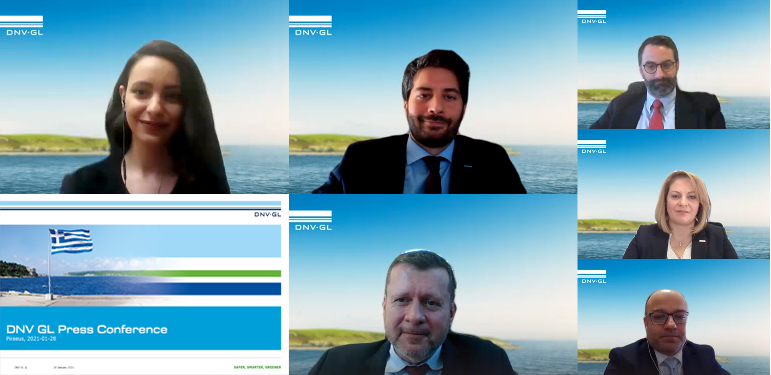 Leonidas Karystios, Regional Business Development & Gas Segment Director, proceeded with a presentation on DNV GL's status in Greece looking at how the Piraeus office has strengthened its presence in the Greek market. He pointed to DNV GL – Greece's market share in terms of number of vessels and gross tonnage, demonstrating significant growth over the last four years. In 2016, 711 vessels representing 32.80 million GT were with DNV GL – Greece, and, at the end of 2020, this had grown to 847 vessels and 42.67 million GT, he noted. The share of newbuilding contracting specifically for Greece has also been growing, he said, with over 28% of Greek owned vessels contracted to DNV GL classification in terms of m GT. Karystios also talked about Greek and regional key-initiatives of the past year, as well as, the structure of the Piraeus office.
Olga Karali, Business Development Manager, offered some insights on how DNV GL coped with the COVID-19 pandemic, utilising our already existing digital tools. During the pandemic DNV GL has used our remote survey scheme through the globally available 24/7 DATE (Direct Access to Technical Experts) services. "This unique DNV GL service has proven to be of significant value to our customers in these challenging times and ensured safety and regulatory compliance through the use of modern technology", Karali noted. At the end of 2020 DNV GL had hit the milestone of 20,000 remote surveys already conducted. Alongside remote surveys generally, DNV GL launched Machinery Maintenance Connect (MMC), a new, remote approach to the machinery planned maintenance system (MPMS).
George Teriakidis, Area Manager East Mediterranean & Black Sea, presented the Maritime Forecast to 2050, a part of the Energy Transition Outlook (ETO) report, produced by DNV GL. Teriakidis analyzed three decarbonization pathways forward and a detailed library of 30 scenarios hoping to enhance shipowners' ability to navigate technological, regulatory and market uncertainty due to decarbonization, while maintaining their vessels' competitiveness, profitability and value over time.
Jason Stefanatos, Business Development Manager, provided an overview of the Energy Efficiency Existing Ship Index (EEXI) and Poseidon Principles topics, along with the relevant IMO ambitions. Stefanatos also reflected on the efforts made by DNV GL in helping the industry meet the EEXI targets through risk management procedures on strategies, newbuilding and operations.
Following the presentations, the presenters took part in a short Q&A session, having constructive discussions with the journalists and guests.