Hot Port News from GAC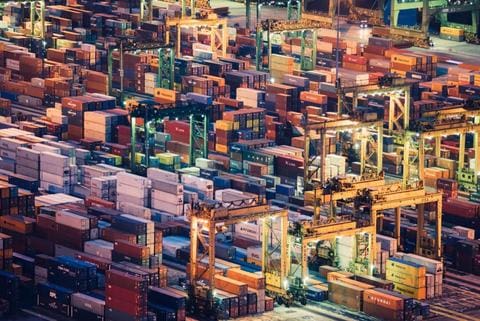 10-Feb-2021
SUBMARINE CABLE LAYING FROM CHUNG HOM KOK TO WATERS EAST OF HONG KONG
Hong Kong
ICEBREAKERS' CARAVAN
Eastern Gulf of Finland, Russia
NEW ENTRY RESTRICTIONS
Mauritius
PORT TARIFF 2021
Antwerp, Belgium
Submarine cable laying from Chung Hom Kok to waters east of Hong Kong
Wednesday, February 10, 2021, Hong Kong
For approximately 9 months, submarine cable laying operations will be carried out along the following co-ordinates (WGS 84 Datum) from (A) to (X):
(A) 22° 12.908' N 114° 12.373' E
(B) 22° 12.904' N 114° 12.593' E
(C) 22° 12.734' N 114° 12.633' E
(D) 22° 12.277' N 114° 12.528' E
(E) 22° 11.755' N 114° 12.521' E
(F) 22° 11.473' N 114° 12.918' E
(G) 22° 11.430' N 114° 13.265' E
(H) 22° 11.914' N 114° 15.208' E
(I) 22° 11.887' N 114° 15.311' E
(J) 22° 11.889' N 114° 15.870' E
(K) 22° 11.830' N 114° 16.251' E
(L) 22° 11.744' N 114° 16.429' E
(M) 22° 11.857' N 114° 17.704' E
(N) 22° 11.889' N 114° 17.850' E
(O) 22° 11.871' N 114° 18.800' E
(P) 22° 11.552' N 114° 23.459' E
(Q) 22° 11.605' N 114° 23.745' E
(R) 22° 12.683' N 114° 24.759' E
(S) 22° 12.967' N 114° 25.144' E
(T) 22° 13.042' N 114° 25.434' E
(U) 22° 13.135' N 114° 27.981' E
(V) 22° 13.087' N 114° 28.152' E
(W) 22° 13.115' N 114° 29.269' E
(X) 22° 12.823' N 114° 30.146' E
The works will be carried out by a flotilla of vessels including one special purpose vessel, one dumb lighter, one flat-top barge and two tugboats.
The number of vessels engaged in the works will change from time to time to suit operational requirements.
A working area of approximately 80 metres around the special purpose vessel will be established. Yellow marker buoys fitted with yellow flashing lights will be laid to mark the positions of the anchors extending from the special purpose vessel.
The hours of work will be round-the-clock from Mondays to Saturdays and from 0700 to 2300 hours on Sundays and public holidays.
Vessels employed for the works will stay in the area outside the hours of work.
Diving operations will be carried out from time to time during the hours of work.
Vessels engaged in the operations will display signals as prescribed in international and local regulations.
Vessels navigating in the vicinity should proceed with caution and keep clear of the area at slow speed, bearing in mind there are divers working in the area.
(For information about operations in Hong Kong, contact GAC Hong Kong at shipping.hongkong@gac.com)
Source: Government of the Hong Kong SAR Marine Department Notice No.28/2021
Icebreakers' caravan
Wednesday, February 10, 2021, Eastern Gulf of Finland, Russia
The St. Petersburg Harbour Master has announced that due to a rapid temperature drop leading to intense ice Buoy No.4 in the Bolshoy (big) Ship Fairway, starting from 00:00 hours local time today (10 February).
The icebreaker "Vladivostok" is appointed as the head icebreaker of the ice escort.
The possibility of movement of ice fields remains, presenting a potential serious danger for navigation in the area, especially at night-time. All vessels are urged to exercise caution.
For information about operations in Russia, contact GAC Russia at russia@gac.com
New entry restrictions
Wednesday, February 10, 2021, Mauritius
Mauritius has introduced new restrictions on passengers/crew members arriving from the UK, South Africa, Japan and Brazil.
Any person who has been physically present in these countries within the last 15 days before their arrival will not be allowed to enter or transit through Mauritius.
(For further details and updates, as well as information about operations in Mauritius, contact the GAC Dubai Hub Agency Centre at hub.ae@gac.com)
Source: Celero Shipping, Mauritius – GAC network agent
Port Tariff 2021
Wednesday, February 10, 2021, Antwerp, Belgium
The Port of Antwerp has published the Port Tariff for 2021. This year's tariffs for piloting, boatmen and auxiliary services have also been published.
For details of the new tariffs, as well as information about operations in Antwerp, contact GAC Belgium at agency.antwerp@gac.com