Hot Port News from GAC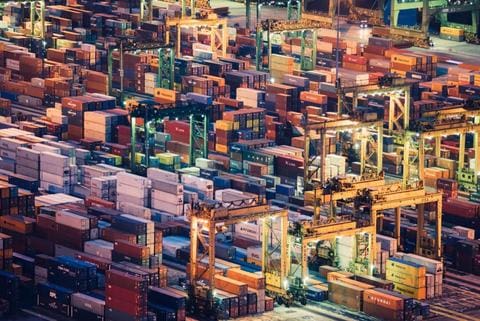 10-Mar-2021
SECOND REVISION OF BERTHING POLICY & TARIFF STRUCTURE
Hazira, India
ANCHORING AT TUAS VIEW EXTENSION OFF AVLCC
Singapore
MARITIME GLOBAL PROCESSING CENTRE CLOSURE FOR EASTER
Australia
CURFEW ANNOUNCED
Mauritius
VESSELS ACCEPTED AT SHALLOW BERTH AS DISMANTLING WORK ENDS
JNPT Terminal, India
Second revision of berthing policy & tariff structure
Wednesday, March 10, 2021, Hazira, India
Adani Hazira Port Ltd has published a 2nd revision of the berthing policy and tariff structure, to come into effect from 1 April.
For further details, as well as information about operations in India, contact GAC India at india@gac.com
Anchoring at Tuas View Extension off AVLCC
Wednesday, March 10, 2021, Singapore
From 9 March to 8 September, bulk carriers will be anchoring and discharging sand at the break bulking slots at Tuas View Extension. The arrival and departure movements of bulk carriers will take place during daylight hours.
According to the Maritime and Port Authority of Singapore Port Marine Notice No.015 of 2021, the location is off AVLCC, at the following coordinates with a 225m radius (for ATWJ1, ATWJ2) and a 300m radius (for ATWJ3, ATWJ4, ATWJ5, ATWJ6):
ATWJ1) 1°13.172' 103°37.765'
ATWJ2) 1°13.421′ 103°38.460'
ATWJ3) 1°14.504' 103°37.699'
ATWJ4) 1°14.504' 103°38.063'
ATWJ5) 1°14.557' 103°38.455'
ATWJ6) 1°14.696' 103°38.802'
The working hours are: 24 hours daily including Sundays and Public Holidays.
When in the vicinity of the working area, mariners are reminded to:
a) Keep well clear of the working area;
b) Maintain a proper lookout;
c) Proceed at a safe speed and to navigate with caution;
d) Maintain a listening watch on VHF Channel 22 (Jurong Control);
and
e) Communicate with Jurong Control for assistance, if required.
For information about operations in Singapore, contact GAC Singapore at singapore@gac.com
Maritime Global Processing Centre closure for Easter
Wednesday, March 10, 2021, Australia
Australia's Department of Home Affairs (Home Affairs) Maritime Global Processing Centre (MGPC) will be closed for the upcoming Easter 2021 from 4pm on Thursday 1 April until start of business on Tuesday 6 April.
It is the responsibility of crew members to ensure that they have a valid visa for entry into Australia otherwise penalties may apply, including the crew member being restricted on board the vessel and/or infringement notices being issued to the employer.
Those needing Maritime Crew (subclass 988) Visas (MCVs) granted for entry into Australia over the Easter period must lodge their applications at least 14 days prior to departure from a port overseas in order to avoid any issues with delays to processing. This means MCV applications should be lodged no later than Thursday 18 March 2021 for crew who are intending to arrive in Australia from an overseas port between 1 and 6 April 2021.
The Australian Border Force will remain operational on a continued 24/7 basis over the holiday period.
For further details, as well as information about operations in Australia, contact GAC Australia at shipping.australia@gac.com
Curfew announced
Wednesday, March 10, 2021, Mauritius
The Prime Minister of Mauritius yesterday (9 March) issued a curfew order directing that no person shall remain outdoors from 06.00 hours today (10 March) until 20.00 hours on 25 March.
From tomorrow (Thursday 11 March), however, a few specific/essential economic activities will be allowed to resume.
(For further details and updates, as well as information about operations in Mauritius, contact the GAC Dubai Hub Agency Centre at hub.ae@gac.com)
Source: Mauritius Shipping Corporation Ltd – GAC network agent
Vessels accepted at shallow berth as dismantling work ends
Wednesday, March 10, 2021, JNPT Terminal, India
JNPT Terminal has advised that vessels will be accepted at SB-2 berth from this evening (10 March), as shallow berth dismantling works are nearing completion.
During the dismantling work, which began on 25 January, vessels could only berth at SWB-3.
For further details and updates, as well as information about operations in India at india@gac.com