Hot Port News from GAC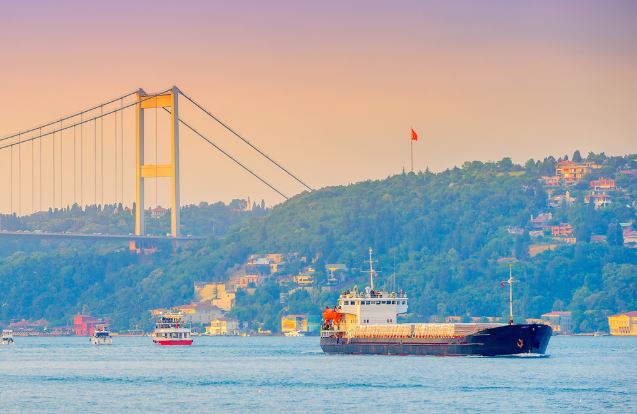 22-Mar-2021
RECONSTRUCTION WORKS FOR HA KENG PIER AT CHI MA WAN PENINSULA
Hong Kong
UPDATED MARITIME TRAFFIC REGULATIONS
Turkish Straits, Turkey
PCR TESTS FOR INCOMING VESSELS (UPDATE)
Saqr, United Arab Emirates
INDUSTRIAL ACTION: BANS ON WORK ON MAERSK VESSELS
Australia
CHANGES TO TRAVEL RESTRICTIONS
Pakistan
Reconstruction works for Ha Keng Pier at Chi Ma Wan Peninsula
Monday, March 22, 2021, Hong Kong
For approximately three months, reconstruction works for Ha Keng Pier at Chi Ma Wan Peninsula will be carried out within the area bounded by straight lines joining the following co-ordinates (WGS 84 Datum) from (A) to (C) and the adjacent shoreline:
(A) 22° 13.482'N 114° 00.826'E
(B) 22° 13.378'N 114° 00.826'E
(C) 22° 13.378'N 114° 00.679'E
The works will be carried out by one derrick lighter, one crane boat and one work boat. One tugboat will provide assistance.
A working area of approximately 15 metres around the lighter will be established. Yellow marker buoys fitted with yellow flashing lights will be laid to mark the positions of the anchors extending from the lighter.
Silt curtains fitted with yellow flashing lights will be established within the works area. The silt curtain is a large piece of netting used to contain mud and sediment.
The hours of work will be from 0700 to 1900 hours. No works will be carried out on Sundays and public holidays. Vessels employed for the works will stay in the works area outside the hours of work.
Vessels engaged in the operations will display signals as prescribed in international and local regulations.
Vessels navigating in the vicinity should proceed with caution.
(For information about operations in Hong Kong, contact GAC Hong Kong at shipping.hongkong@gac.com)
Source: Government of the Hong Kong SAR Marine Department Notice No.64 of 2021
Updated Maritime Traffic Regulations
Monday, March 22, 2021, Turkish Straits, Turkey
The Turkish Authorities have updated the Implementation Directive of Maritime Traffic Regulations for the Turkish Straits.
For details of the updated rules, as well as information about operations in the Turkish Straits, contact GAC Istanbul at turkey@gac.com
PCR tests for incoming vessels (update)
Monday, March 22, 2021, Saqr, United Arab Emirates
It has been agreed to cancel the requirement for a PCR test to be conducted for crews before berthing.
However, vessels arriving from the below countries or flagged by them will still need to be inspected on arrival by customs as per the previous instructions.
The countries this rule is currently applicable for are:
Afghanistan
Iran
Iraq
Oman
Pakistan
Yemen
This procedure is to be resumed with immediate effect.
(For further details and updates, as well as information about operations at Saqr, contact GAC Ras Al Khaimah at rasalkhaimah@gac.com)
Source: Saqr Port Notice dated 21 March 2021
Industrial action: bans on work on Maersk vessels
Monday, March 22, 2021, Australia
Tug operator Svitzer Australia has advised that they have received further notification from the Maritime Union of Australia (MUA) of protected industrial action by its members.
The protected industrial action involves MUA members of Svitzer's workforce engaging in bans on the performance of work on Maersk shipping line vessels for three days from 12:01am on Wednesday, 24 March, through to 11:59pm on Friday, 26 March.
This protected industrial action may result in a knock-on effect on shipping schedules and the maritime industry nationally.
For information about operations in Australia, contact GAC Australia at shipping.australia@gac.com
Changes to travel restrictions
Monday, March 22, 2021, Pakistan
The Federal Government of Pakistan has placed a travel ban on the following 12 countries under the coronavirus standard operating procedures:
Botswana
Brazil
Columbia
Comoros
Ghana
Kenya
Mozambique
Peru
Rwanda
South Africa
Tanzania
Zambia
The restrictions on flights coming in from the United Kingdom have also been eased.
These changes come into effect from tomorrow (23 March) to 5 April.
There are three categories – A, B and C – in which countries are placed accordingly to contain the spread of COVID-19. Category A passengers do not require a COVID test; those in Category B need a polymerase chain reaction (PCR) test conducted 72 hours before travelling to Pakistan; and countries in Category C must obtain clearance from the National Command and Control Centre (NCOC) prior to sending their flights to Pakistan.
Further details can be found at http://covid.gov.pk/intl_travellers/current_policies
For further details and updates, as well as information about operations in Pakistan, contact GAC Pakistan at pakistan@gac.com