Watch Live the Conclusion in Lanzarote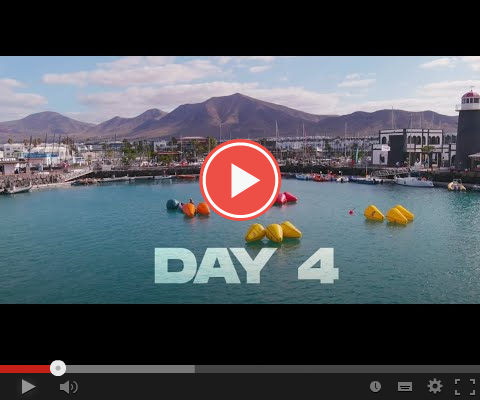 Spaniards Botin and Marra are a blur of speed, leading in style
Robert Dickson and Sean Waddilove (IRL) were one major mistake away from a stupendous day in their bid to win the final Olympic 49er berth for Tokyo 2020. The 2018 Junior World Champions won two of the three races on the day, but scored a second UFD (over the start line early) in the middle race of the day to curtail any celebration. The pair can drop that race from their scoreline, leaving no will room in Gold fleet and a medal race. … read onPacheco/Trittel (ESP) take overall lead – Kurtbay/Jarvine (FIN) move into qualifying positionThe Olympic qualifying favorites, Sinem Kurtbay and Janne Jarvine (FIN) moved into 5th place overall and now lead the remaining countries aiming for the final Tokyo berth. They scored their best day of the series to create a bit of separation to the chasing pack. Kurtbay and Jarvine were the top placed team not to earn qualification from Auckland Worlds 2019, and are looking to earn their place now. … read on
What the conclusion of racing Live
Tune into World Sailing Youtube at 11:00am spanish time to watch the final days of racing. Gold fleets on the 25th and medal races on the 26th.