Hot Port News from GAC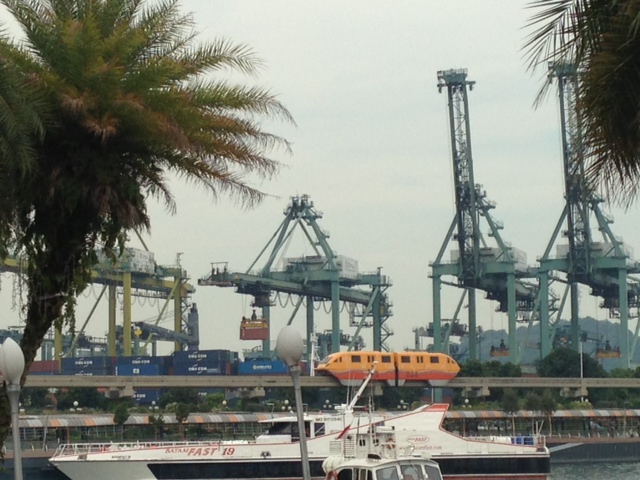 23-Apr-2021
CAPPING OF MUD PITS NORTH OF HONG KONG INTERNATIONAL AIRPORT
Hong Kong
PORT JOINS SHIPPING AUSTRALIA
Newcastle, Australia
EXPANSION OF ENTRY BAN
Oman
PROHIBITION OF CREW CHANGE FOR CREW WITH RECENT TRAVEL HISTORY TO INDIA
Singapore
PROHIBITION OF ENTRY FOR FOREIGNERS FROM INDIA
Indonesia
FULLY VACCINATED INDIVIDUALS EXEMPT FROM TEST REQUIREMENT
Bahamas
Capping of mud pits north of Hong Kong International Airport
Friday, April 23, 2021, Hong Kong
For approximately 12 months, marine works involving capping of mud pits and trimming works will be carried out within the area bounded by straight lines joining the following co-ordinates (WGS 84 Datum) from (A) to (G):
(A) 22° 20.711'N 113° 55.837'E
(B) 22° 20.484'N 113° 56.835'E
(C) 22° 20.032'N 113° 56.740'E
(D) 22° 20.031'N 113° 56.403'E
(E) 22° 20.418'N 113° 55.533'E
(F) 22° 20.298'N 113° 55.123'E
(G) 22° 20.458'N 113° 55.077'E
The works will be carried out by one hopper barge. One tugboat and one guard boat will provide assistance.
A working area of approximately 50 metres will be established around the barge. Yellow marker buoys fitted with yellow flashing lights will be laid to mark the positions of the anchors extending from the barge.
The hours of work will be round-the-clock.
Vessels engaged in the operations will display signals as prescribed in international and local regulations.
Vessels navigating in the vicinity should proceed with caution.
(For information about operations in Hong Kong, contact GAC Hong Kong at shipping.hongkong@gac.com)
Source: Government of the Hong Kong SAR Marine Department Notice No.76 of 2021
Port joins Shipping Australia
Friday, April 23, 2021, Newcastle, Australia
The Port of Newcastle has become the newest member of Shipping Australia, an association with 29 members and 40 associate members representing the country's ocean shipping industries.
The Newcastle hub is the largest port on the Australian east coast, handling 4,400 ship movements and 164 million tonnes of cargo per year.
For information about operations in Australia, contact GAC Australia at shipping.australia@gac.com
Expansion of entry ban
Friday, April 23, 2021, Oman
Oman's Supreme Committee tasked with tackling developments resulting from the Covid-19 pandemic has decided to expand the ban on entry to the Sultanate to cover travelers from India, Pakistan, and Bangladesh and passengers arriving from any other country if they passed by any of the three countries over the past 14 days.
The three countries are thereby added to the list of countries from which travelers were earlier banned from entering Oman.
The ban begins at 6pm on Saturday, 24 April 2021, and will continue until further notice.
Arriving passengers who are Omani citizens, diplomats or health workers, and their families are exempted. Exempted groups will undergo the prescribed entry procedures when they reach the Sultanate.
For further details and updates, as well as information about operations in Oman, contact GAC Oman at muscat@gac.com
Prohibition of crew change for crew with recent travel history to India
Friday, April 23, 2021, Singapore
The Ministry of Health (MOH) has announced that from 23 April 2021, 2359 hours, all long-term pass holders and short-term visitors with recent travel history (including transit) to India within the last 14 days will not be allowed entry into Singapore, or transit through Singapore.
In line with the above, please be informed that the following crew change will not be allowed in the Port of Singapore:
a) Crew with recent travel history to India within the last 14 days preceding arrival to Singapore. This includes sign-on crew travelling to Singapore by flight as well as sign-off crew from vessels that have called at India.
b) Sign-on crew transiting India on their connecting flights to Singapore.
The above measure for crew with travel history to India is effective from 23 April 2021, 2359 hours.
Any queries relating to this circular should be directed to crew_change@mpa.gov.sg
(For information about operations in Singapore, contact GAC Singapore at singapore@gac.com)
Source: Maritime and Port Authority of Singapore Port Marine Circular No.12 of 2021 dated 22 April 2021
Prohibition of entry for foreigners from India
Friday, April 23, 2021, Indonesia
The Indonesian government has prohibited entry to foreign citizens (WNA) from India as a result of the soaring Corona cases. This new rule takes effect on Sunday, 25 April 2021.
The government's decision to stop granting visas to foreigners who have lived or visited India in the last 14 days was announced by the Coordinating Minister for the Economy Airlangga Hartarto. This step was taken after several other countries banned the entry of foreigners from India.
In addition to foreigners, the new rules regarding travel from India also apply to Indonesian citizens. Indonesian citizens from India can still enter Indonesia, but the regulations are stricter and health protocols tightened.
For further details and updates, as well as information about operations in Indonesia, contact PT Andhika GAC at
shipping.indonesia@gac.com
Fully vaccinated individuals exempt from test requirement
Friday, April 23, 2021, Bahamas
The Bahamas Government has eased some of its implemented regulations for persons transiting through the Bahamas.
Individuals who are fully vaccinated against Covid-19 shall be exempt from the requirements to undergo a RTPCR COVID 19 molecular diagnostic test or a COVID 109 rapid antigen test. They will be required to present evidence to prove that they have been fully vaccinated against Covid-19.
(For information about operations in the Bahamas, contact the GAC Houston Hub Agency Center at hub.us@gac.com)
Source: Elnet Maritime – GAC network agent
GAC is a global provider of integrated shipping, logistics and marine services dedicated to helping customers achieve their strategic goals at thehighest levels of quality, safety and compliance.