Korean Register, Pan Ocean and POS SM sign Joint Research Agreement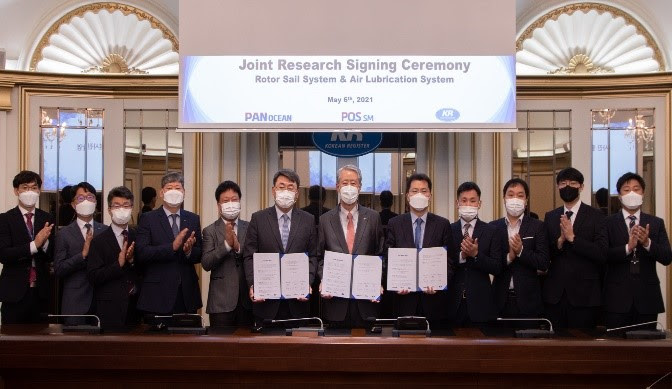 Korean Register, Pan Ocean and POS SM sign Joint Research Agreement for Rotor Sail and Air Lubrication System
Pan Ocean has installed a Rotor Sail and Air Lubrication System on newbuild VLOC – the first in Korea
Joint agreement to verify actual energy savings achieved from new technology
KR (IACS member classification society), Pan Ocean (global Korean ship owner) and POS SM (global Korean shipmanager) have signed a "Joint Research Agreement for Rotor Sail Systems and Air Lubrication Systems". This joint research represents a further step towards realizing the environmental obligations of the shipping industry and is part of the wider "New Technology Joint Research Agreement" signed earlier by the three partners.
Under the new agreement, the three partners have agreed to work together to "establish the efficiency derivation achieved from rotor sails and air lubrication systems". The aim is to verify efficiency and fuel savings through analyzing actual operational data analysis and, in particular, from a brand-new rotor sail installation on VLOC Sea Zhoushan.
Pan Ocean has recently fitted five 24m high rotor sails to a newbuild 325,000 DWT VLOC – Sea Zhoushan. A rotor sail is a cylindrical tower that when rotated in optimum wind conditions will create forward thrust for the vessel resulting in fuel savings of around 6-8% as well as a reduction in associated emissions. The system is an eco-friendly auxiliary technology which is simple to install.
IMO continues to introduce more stringent environmental regulations in order to meet the goal of reducing greenhouse gas (GHG) emissions by 50% and carbon intensity by 70% by 2050, compared with 2008 levels. As a result, major shipping nations, such as South Korea, and the global maritime sector as a whole, are working on a series of measures such as the introduction of eco-friendly rotor sails and the use of eco-friendly alternative fuels to help comply with the new regulations.
Kim Myung-Soo, CEO of POS SM expressed his expectations of the agreement by saying, "Pan Ocean and POS SM have been pro-actively responding to various international environmental regulations through a smart platform based on real-time big data from more than 100 vessels. Using this system, I am confident that a quick and thorough verification will be carried out".
Ahn Joong-ho, CEO of Pan Ocean called on all parties to extend all efforts to analyze and verify the effectiveness of the newly introduced technology. He said, "if through this cooperation with KR and POS SM, the use of rotor sails and air lubrication systems achieves not only the fuel savings we are anticipating but also improves the overall operational efficiency, then I expect to see this technology adopted much more widely in the future."
KR said, "The joint research agreement to verify the effectiveness of this new technology is an extremely important step in assisting shipping companies become more green and to comply with the decarbonization regulations. At KR, we are committed to actively participating in the application of these eco-technologies and to help vessel operators meet their environmental obligations for the good of the industry and society as a whole."