It was the best of times, it was the worst of times…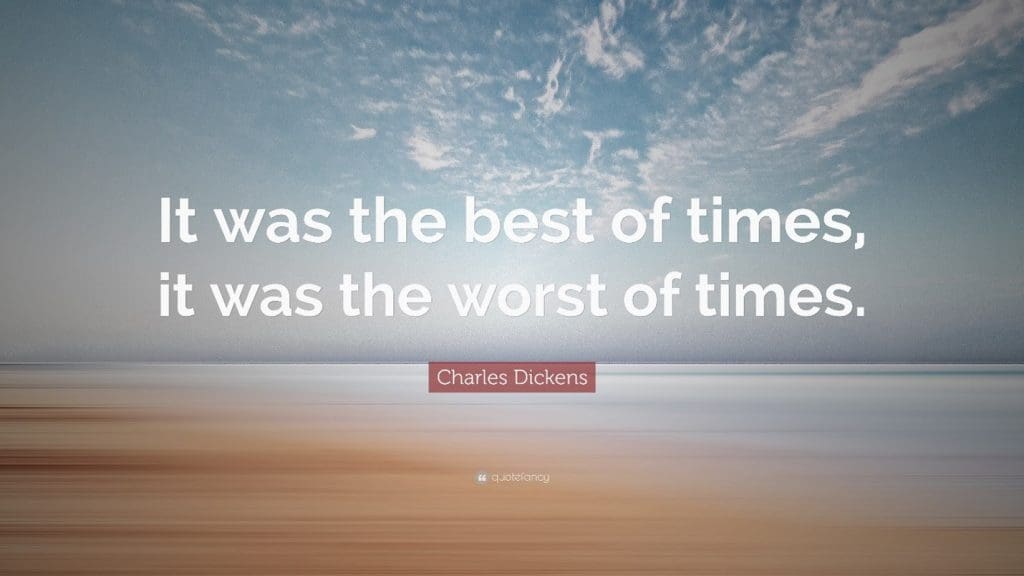 Charles Dickens penned this famous observation in 1859 to open his great literary work, A Tale of Two Cities.  Set against a backdrop of the French Revolution, it reflected a complex situation filled with elements ranging from imprisonment and injustice to social anarchy and resurrection.  Above all, it was about creating profound change.
We are witnessing change of this magnitude in maritime today. Every day brings new opportunities—and challenges—ripe for an industry to embrace. Much of what is going on is a wakeup call for vigilance, such as the Colonial Pipeline hijacking (the worst of times?), yet an alternate is the recognition that much of what we need to do is happening more quickly than we realize (the best of times).
Many in our industry still say we are slow to change, we are conservative, and we will never meet our goals. As with everything, there may be a kernel of truth, but these statements are being made without factoring in the tools we have today to effect change. Unlike the past millennia which fostered our industry of today, we have the benefits of advanced technology, lightning-fast communications, and boundless digitalization which only serves to accelerate change. Gone are the days when designs were mailed in paper form, we can now share them in a remote group meeting with participants spanning the globe.
Unlike Dickens, who was writing in hindsight, what is over the horizon is not yet known. In fact, it is limited only by our vision and trust.
Keep optimizing!
Carleen
SHIPPINGInsight is the premier technology forum and networking event for maritime industry professionals.

VIRTUAL VENUE – INNOVATIVE IDEAS – PROFITABLE OPPORTUNITIES
News of the Week
June 9, 2021
click on topic to jump to that section
Decade of Decarbonization
Deep Dive: Energy Alternatives
Decade of Digitalization
Deep Dive: Safety on the High Seas
SHIPPINGInsight updates

Decade of Decarbonization
US, Denmark and Norway commit to ensure hundreds of zero-emission ships are in operation by 2030 
2021-06-02- International cooperation to decarbonise shipping is pressing ahead with a new Zero-Emission Shipping Mission as part of Mission. . . READ MORE

 Skou sees bunker tax hitting $450 per tonne
2021-06-03- Søren Skou, CEO of A.P. Moller – Maersk, has put a dollar figure on what he'd like to see for a carbon tax for shipping. . . READ MORE


Deep Dive: Energy AlternativesGLOBAL: TRAFIGURA AND YARA TEAM UP ON AMMONIA FUEL OPPORTUNITIES
2021-06-07– Commodity trader Trafigura and ammonia specialist Yara have signed a Memorandum of Understanding to work together. . . 
READ MORE
Source: BUNKERSPOT

GLOBAL: UECC TO COMMIT TO SUSTAINABLE BIOFUELS FOR REST OF THE YEAR2021-06-08– United European Car Carriers has more than 12 months' experience trialling biofuels, using over 6,000. . . READ MORE
Source: BUNKERSPOT
Decade of DigitalizationVDMA: Shipbuilding Boom Lifts Suppliers' Spirits 2021-06-07- On Monday, German equipment and shipbuilding association VDMA released a detailed market prospectus for the year ahead. . . READ MORE

Deep Dive: Safety on the High Seas87% of seafarers still to receive a first vaccine according to initial results of BMA mental health survey2021-06-02- The Seafarer COVID-19 Welfare Survey announced recently by The Bahamas Maritime Authority has already garnered very high levels of support from maritime organisations. . . READ MORE
Source: SHIP MANAGEMENT INTERNATIONAL
SHIPPINGInsight Updates

Click below to view SHIPPINGInsight news and updatesSHIPPINGInsight MediaDeveloping AgendaOn-demand access to SHIPPINGInsight 20/20 Conference and Exhibition is COMPLIMENTARY to all. Click below to register and access:SHIPPINGInsight 20/20 On-Demand
2021 Partner Spotlight
SHIPPINGInsight is pleased to be welcoming VPS as a partner. They will be joining us as we bridge the decade with fleet management and maritime technology.