BTI Summer Out Now!
INSIDE THE LATEST EDITION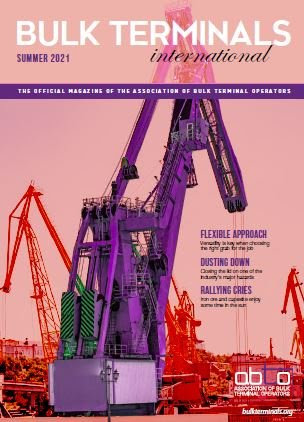 Why the plight of seafarers needs to stay firmly in the spotlight
Grabs: Flexibility is one of the main factors when selecting the right grab
Cranes are playing an important part in the race to digitalisation
Grains: Dust particles constitute a major hazard when moving grains around the world
Safety: Why covid-19 vaccinations must be a priority to protect seafarers
India: The country is pressing ahead with the development of a national maritime plan
FROM THE CHIEF EXECUTIVE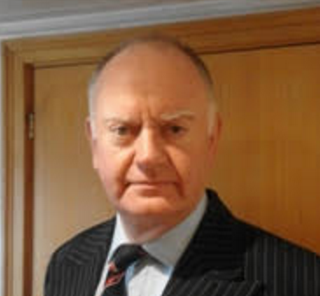 The first quarter of 2021 started well for dry bulk, when BIMCO reported that "The first four months of 2021 have been record-breaking in volume terms, with demand reaching 1.69 billion tonnes – the highest-ever start to a year. Volumes are up 6.1% compared with the same period in 2020, and only slightly down from the 1.72 billion tonnes in the final four months of 2020."
In the second quarter BIMCO's Peter Sand posted that "The swift recovery from the pandemic in China has seen its dry bulk imports rise to their highest levels ever, boosted by infrastructure heavy stimulus and high grains demand, causing a spike in the appetite for many dry bulk imports which have reached their highest levels ever."
Platts sees this trend continuing into the third quarter.
However positive the markets, political dispute – as we have seen with the impact of China's spat with Australia on the latter's bulk exports to the Middle Kingdom – and civil disruption can spoil the good news.
Citing "an escalation in the security situation at the operations", at the beginning of July Rio Tinto declared a force majeure on customer contracts at its Richards Bay Minerals project.
At the time of going to press riots and looting in KwaZulu-Natal and Gauteng had resulted in the suspension of transport operations along the NATCOR rail line, representing a substantial blow to South Africa's embattled economy – although TRANSNET, the state-owned freight and logistics company, said operations at the Durban and Richards Bay ports were being restored having previously declared force majeure on the line.
Despite the violence some terminals have managed to continue operating. Recently appointed Fiya Nxumalo, Operations Planning Manager at the Richards Bay Coal Terminal (RBCT) – who takes over the role following the sad death earlier this year of Bulk Terminals International reader Silven Chetty – reports that the terminal has kept operations running.
For climate change to be reduced there needs to be a unified international approach to reduce emissions, no less so in the shipping and port sectors of maritime operations.
Shipping is divided. The EU has announced a new climate change plan, "Fit for 55". This includes shipping to be part of the Emissions Trading Scheme (ETS). The ICS, who in line with IMO wish to see international agreement rather than regional regulation was highly critical. Guy Platten, Secretary General, ICS: "Other than as an ideological revenue raising exercise, which will greatly upset the EU's trading partners, it's difficult to see what extending the EU ETS to shipping will achieve towards reducing CO2, particularly as the proposal only covers about 7.5% of shipping's global emissions. This could seriously put back climate negotiations for the remaining 92.5% of shipping emissions."
Danish Shipping think differently. Maria Skipper Schwenn, Executive Director of Security, Environment and Maritime Research: "As a starting point, it looks very reasonable, and we feel that the contributions we, as a sector, have delivered in the preparatory work, have been heard" – and happy that this could pressure IMO into adopting the same approach.
Claes Berglund, President of the European Community Shipowners Association (ECSA) gave cautious support, preferring international agreement, but genuflecting in the direction of the European Union "we recognise that shipping should contribute its fair share to address the climate crisis, at EU level as well".
The port and terminal sector in the EU was broadly in favour.
The Federation of European Private Port Operators (FEPORT) welcomed the EU Commission's "Fit for 55" proposals as a necessary step to meet the EU's enhanced climate targets. Lamia Kerdjoudj-Belkaid, Secretary General, FEPORT underlined the need to acknowledge and support the efforts of port stakeholders to decarbonize the maritime sector added a note of caution "We fully subscribe to the objectives of the Green Deal and EU's enhanced climate targets. However, it will also be essential to keep in mind that the competitiveness of European ports is also a priority and that the competition with non-EU neighbouring ports is an important issue to be considered when discussing mechanisms that may impact imports and exports transported via EU ports"
Similarly, The European Sea Ports Organisation (ESPO) welcomed the proposals. Although as with FEPORT, whilst supportive of the EU Commissions proposals, worth noting the caveats. Isabelle Ryckbost, Secretary General, ESPO "For Europe's ports it is essential to ultimately achieve a policy that is effective in reducing emissions, is coherent, keeps an eye on the competitiveness of Europe's port sector, is future-proof and does not create stranded assets or additional administrative burden for ports. It should take the diversity of the European port and maritime sector into due consideration"
The International Association of Ports and Harbors (IAPH) which enjoys IMO NGO consultative status, has of course had the World Ports Sustainability Program in place since mid-2017. Guided by the 17 UN Sustainable Development Goals the program wants to enhance and coordinate future sustainability efforts of ports worldwide and foster international cooperation with partners in the supply chain.
At the IAPH World Ports Conference in May the new IAPH President, Subramaniam Karuppiah called for closer cooperation between port and shipping stakeholders to achieve sustainability "Especially when it comes to ships with new fuel requirements, such as LNG, methanol and ammonia, much higher and more complex investments will be required on land than in the shipyard. As mentioned by several port CEOs during the conference, achieving this in a sustainable manner – both economically and from an environmental standpoint – will require much closer cooperation between shipping and ports than we currently see, and will also require working closely with the energy majors and future providers of bunker fuel for these new ships."
ABTO adds its voice to those organisations representing both shipping and the ports and terminals sectors who wish to see international agreement rather than attempts to force the pace through the imposition of regional rules and regulations. IMO often comes in for criticism for how long it can take to achieve agreement. In wartime any merchant convoy can only travel at the speed of the slowest ship. However, just as a convoy achieves protection from accompanying Naval vessels by sticking together, so international agreement prevents a patchwork of different applicable standards which all too often result in substandard safety and environmental regulation in those jurisdictions where seafarers and port and terminal workers most need protection – notwithstanding given IMO's remit this is easier to achieve with shipping than ports and terminals.
Turing to housekeeping matters, ABTO aims to keep you to in the picture about these and other developments at our annual Bulk Terminals 2021 conference and through a programme of our own and supported events throughout the year.
Assuming new covid-19 variants do not prevent it, the ABTO Bulk Terminals 2021 Riga conference will be held on Wednesday 20 and Thursday 21 October at the Freeport of Riga Authority conference venue, with a pre-conference terminal visit for early arrivals on Tuesday 19 October. While we hope to be able to meet you all physically in Riga and are working on the assumption that this will be possible, in the event of a further recurrence of covid-19 in October preventing this we will split the sessions and run the conference online over four or five days during the week commencing 18 October.
Each year the ABTO Bulk Terminals conference presents a full programme focused on the concerns of operators; offering sound practical solutions for improving safety, streamlining operations and ensuring environmental protection – as well as a market analysis and development opportunities. Autonomous operations and digitalisation have been raised as subjects of interest. Naturally, Bulk Terminals 2021 will consider the impact of covid-19 on bulk terminals. Given the importance to Latvian and Baltic ports of transit cargoes, rail and transport connectivity will also be covered.
I am grateful to BRUKS Siwertell, igus and Buttimer for repeating their support for Bulk Terminals 2021 Riga, and welcome and Bedeschi and SAMSON Materials Handling on board this year.
We are glad to announce a new online short course on Tuesday 23 and Wednesday 24 November 2021: Understanding the Total Cost of Ownership – how to avoid future problems and buy bulk solids handling equipment intelligently.
The objective of the course is to raise awareness amongst bulk terminal buyers of the need to behave in a better-informed way and equipment suppliers to understand the operational needs of the equipment they are supplying.
All too often the operational requirements of the equipment to be supplied is not properly understood by either the buyers or the sellers. Purchase decisions purely based on price fail to understand the true cost of a bulk solids handling system to a business in terms of down-time, energy, maintenance and manning. With expert presentations, case studies and group working facilitated by The Wolfson Centre for Bulk Solids Handling Technology, University of Greenwich and members of the Solids Handling & Processing Association (SHAPA) this course will give both terminal operators and equipment manufacturers an insight into what should be on the one side be specified, and on the other supplied.
The popular Port and Terminal Operations for Bulk Cargoes short course will be repeated online 14-17 March 2022, as will Biomass Operations and Handling Technology 21 – 25 February 2022.
To discuss speaking and sponsorship opportunities at Bulk Terminals 2021 Riga, or to register an interest in attending the conference or any of the short training courses, please contact events@bulkterminals.org +33 (0)3 21 47 72 19. Keep an eye on the Events section of our website www.bulkterminals.org for developments and registration details.
Enjoy our summer edition of Bulk Terminals International. Keep in touch, stay safe and see you all at Bulk Terminals in Riga from 19-21 October.
Kind regards
Simon Gutteridge, Chief Executive, ABTO