Enormous success for Artcurial in Monaco…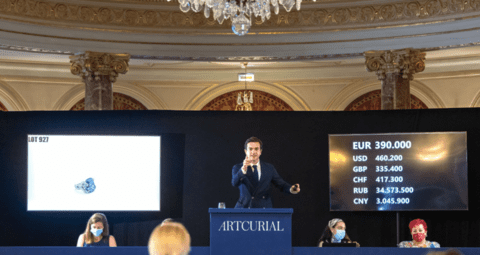 Monaco Art & Auctions – July 24-31, 2021
Enormous success for Artcurial in Monaco
Artcurial enjoyed a very gratifying Monaco Auction Week. "Our enormous success confirms our leadership in Monaco," the auction house said on Friday, July 23.
Patek Philippe beats all guesstimates Antiquorum, the Swiss auction house, hit the headlines during the week when a Patek Philippe Nautilus watch sold for an astounding 320,000 euros at its sale at the Hôtel de Paris. What made the watch special…Continuing at the Grimaldi Forum:
The Grimaldi Forum's big summer event continues with a retrospective exhibition of sculptor and painter Alberto Giacometti's work, until August 29.
Organised in association with the Giacometti Foundation, this exhibition focuses on every period of the artist's career and every medium that he used in the creation of his art.
The exhibition brings together over 230 pieces of work, including masterpieces, which are accompanied by photographs and films to paint the full picture. Visitors will be treated to discoveries in every direction, as part of the journey which has been orchestrated by curator Émilie Bouvard, the Giacometti Foundation's Director of Collections and Science.
In the Indigo space:
Diane Venet is exhibiting her collection of artists' jewellery at the Grimaldi Forum, until August 19. This collection consists of more than 200 small and precious works of art from Picasso, Kapoor, Indiana, Koons, Braque and Dalí to name just a few.
With the help of other collectors, Diane Venet's collection presents several aesthetics from artists of all generations, from around the world. The exhibition will be held in the Indigo Hall of the Grimaldi Forum, every day from 10:00 to 20:00. Tickets will cost six euros per person. To discover more about the collection, click here.
Continuing at the Adriano Ribolzi Gallery:
Until the end of August, this exhibition continues to relate the story of a unique and daring encounter between four artists with different horizons. Adriano Ribolzi said: "For this second part of the Centenary of Maison Ribolzi, it is with the same passion, with the same commitment that I invest in the search for renowned artists offering interesting and high-level works and creations. Sergio Fermariello, one of the leaders of contemporary Italian artists, corresponded perfectly to my wish and I am happy to welcome him within my walls." Fermariello's works are paintings with figures that can be interpreted as warriors. 
MORE INFO: https://news.mc/2021/07/19/this-week-in-monaco-july-19-to-25/