Measuring boats: it's not a popularity contest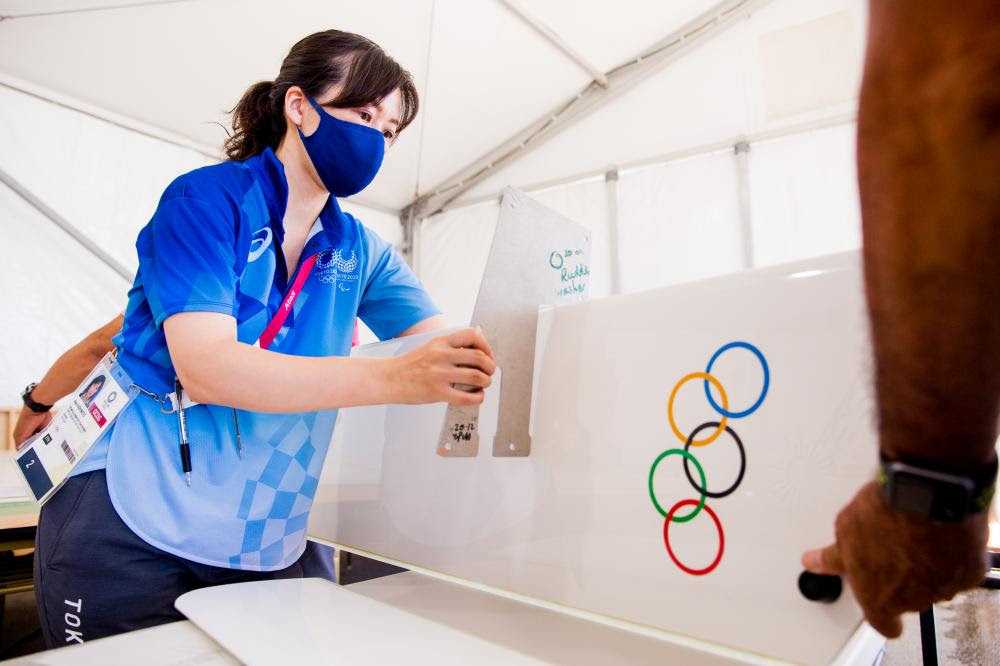 You can't win an Olympic medal in sailing without having a fast boat. Just like in motor racing where winning comes from a combination of man and machine working together in harmony, the same is true in Olympic sailing.

To have fair competition, you need to know that everyone is operating within the rules, which is why every boat, board, mast, sail and foil must be inspected and checked over by a team of Event Measurers.

They are the sheriffs who are there to police the legality of the equipment, and to make sure no athlete is riding a coach and horses through the middle of the rule book. At Tokyo 2020, the sheriff-in-chief, the Head of the Equipment Inspection team, is Dimitris Dimou from Greece.

According to Dimou, the best measurers have a strong background in competitive sailing. They know what makes a boat go fast, and they know what to look for when someone is trying to make their boat go too fast. "Ideally, measurers have a similar background [to the competitors] because then they know the equipment and they have also seen things from the other side. So first, you are the bad guy, then you become the policeman. And if you do that in this order, the policeman knows the tricks the bad guys are using." The phrase sometimes used for deliberate tampering with equipment is 'mechanical doping', although most of the time measurement problems arise not from deliberate cheating but because of lack of clarity in the rules or an athlete or coach inadvertently changing the equipment without realising the transgression.

Experience counts a great deal in the measurement game, and Dimou is now working at his fifth Olympic Games. His specialist subject is the 470 class, of which he used to be the International 470 Class President.

Like his counterparts who specialise in other Olympic classes, he has got to know the personalities in the fleet. "It's important that after all these years in a class, you get to know not only the rules of the class and the equipment, but that you know the sailors and the sailors know you.

"The most important thing is for the sailors to trust the measurer who is checking their equipment, because they need to know that all the other boats, their competitors, they have also been checked properly and that everybody gets the same treatment."

In two of the ten events taking place in Tokyo, athletes are issued with supplied equipment. This is the case in the Men's and Women's One Person Dinghies, the Laser and Laser Radial.

In the 'supplied equipment' events, there should be no technical advantage – everyone should have exactly the same. At this level, however, elite sailors can detect differences in manufacture down to the nearest couple of millimetres. They can 'feel' when a boat feels good, great, or less than average. Although sometimes these differences can be in the mind.

"Yesterday we had a case when one of the Laser sailors came and complained that his daggerboard was not exactly like the other boards that he has used elsewhere. So, we had to do some checks to prove to him that his board was not so different from the other boards that are distributed here." After investigation, the measurers could find no material difference in the board in question. "The difficulty is to convince the sailor that his board is not so different from the others."

In the Nacra 17 Multihull, the 49er and the 49erFX skiffs, sailors bring their own equipment to the Games although they are not allowed to modify their equipment. It must be 'as supplied by the manufacturer'. They will have worked through many different hulls, masts, foils and sails to find their favourite ones, the equipment that they believe will give them the best chance of winning.

As with event-supplied equipment, the theory is that in these fleets everyone is working with the same gear. There should be no material advantage, but it's still the case that some kit just 'feels' better than others. And it's not unknown for one or two sailors to illegally modify the equipment. There are grey areas here – what's considered to be fair levels of repair and maintenance, and what's considered to be beyond the rules. This is where the measurers are highly valued for their ability to draw a clear line through these grey areas. "Part of our role as measurers is to try to interpret the rules," says Dimou. "Here we have done already two or three interpretations, but which are just a clarification of the existing class rule. It's not so easy to describe everything that you want in simple phrases. The class rules are always difficult to write, but the interpretations are there. They provide that additional clarity."

The newer a class, and the more technically complex it is, arguably the more important accurate measurement becomes. Compared with the boats that float on water, the hydrofoiling Nacra 17 Multihulls can vary significantly in speed with just the smallest of variations in their foiling surfaces. Variations of a few millimetres can add up to hundreds of metres of advantage on the race course.

"We are running more measurement controls in the Nacra," says Dimou. "We have to make sure that sailors have not been modifying items like the daggerboards and the rudders that are very critical to the performance. It's really important to be able to recognise when the daggerboard has been sanded more than what is permitted under the rules. The Finn and the 470 are different because athletes can actually make their own equipment based on the dimensions specified in the rules, so we really have to check the dimensions and not so much the source of the manufacture."

Dimou has no problem being the bad cop. It's a necessary role if fair competition is to be achieved. "Let's say we are fighting against the athletes because they want to bypass a few limitations and we have to catch them. The sailors – they always want to take advantage of the class rules. They want to use equipment to optimise the shapes and the dimensions of the equipment as far as they can within the rules. We have to make sure they stay the right side of the rules."

With the measurers working in the intense heat and humidity of Tokyo, the COVID-19 restrictions have made a tough job even more difficult than usual. "We have to try to keep our distance, we try not to touch the equipment so much," Dimou explains. "We have to minimise the interaction with the sailors and the coaches.

"It's different, but we still have to do the job. And you can't do it without touching the boats. We're cleaning our hands all the time and we have masks. We don't have so many people in the measurement areas. It's difficult, but the job has to be done."

By Andy Rice – World Sailing