News from The Nautical Institute – July 2021
Nautical Institute CEO Captain John Lloyd FNI writes: The Covid-19 pandemic continues to have a devastating impact on seafarers trapped on board for many months. As freight rates rise and ships are once again fully laden with the goods of international trade it is amazing how innovative solutions have been found to keep supply routes open and ships trading efficiently.

In stark contrast, we are witness to the lack of effort, lack of focus and lack of compassion on the part of many employers who have failed to resolve the crew-relief crisis.

It is not a technical dilemma but a moral one. Many leaders are failing in their responsibilities to resolve it. We support all efforts to raise awareness of this important issue.

Some steps are easy:
1. Vaccinate the seafarers.
2. Allow travel for vaccinated seafarers.

We have seen how high-profile politicians, sports stars and business people have benefited from this approach. The invisible mariners who man the ships of an invisible industry deserve the same recognition!
Our photo competition winners
The Nautical Institute 50th Anniversary Calendar Competition closed last month, and we'd like to thank everyone who submitted entries. We received almost 100 entries from NI members, all of which were of a very high standard.
 
We are pleased to announce that the winners are as follows. Each individual named will receive a free NI book of their choice.



Yrhen Bernard S Balinis AMNI
Jeremy Brew MNI
Łukasz Jakub Grodź AFNI (×2)
Hugh Helps MNI (×2)
Andrew Louch AFNI
Nikolaos Makrakis AMNIS (×2)
Alexandrs Poznaks AFNI (×2)
James Willcox MNI
Gabriel Zevri AFNI
 
The calendar will be available for purchase well before year's end ‑ please check future newsletters for more information. There's more information about The Nautical Institute's 50th anniversary on the website.  
Put your name on our calendar!

The Nautical Institute Publishing Team is getting excited as we put together the special calendar to celebrate the Institute's golden anniversary in 2022. The pictures have been chosen from some outstanding images submitted by NI members in our photographic competition – see story above.
 
Now we are offering companies and organisations a chance to share in our celebrations – and to support the NI's valuable work – by sponsoring a page in the calendar.
 
Sponsors will have their logo, name and brief details on the month of their choice (subject to availability) and will receive acknowledgement on the NI's social media platforms and website.
 
No fewer than 3,000 full-colour A4-size wall calendars are being distributed through NI branches and supporters, so sponsors' support for the Institute will be recognised worldwide. Each sponsor will receive 50 calendars to distribute to its offices and clients.
 
For more details, please contact Veena Joseph-McBride, fundraising manager, supportus@nautinst.org; tel: +44 (0)203 542 0408. Sponsorship applications must be received by 20 August 2021.

If you're a little unsure about navigating your way through the complexities of commercial shipping, The Nautical Institute Academy has just the course for you.
 
Our Introduction to Shipping online course explains the key elements of the maritime industry – trade routes, hubs, vessel types, legislation, the maritime cluster and much more ‑ all in a six-hour window.
 
Your instructor will set a course for you to expand your knowledge on the challenges facing commercial shipping and the exciting innovations that are transforming maritime technologies.

The next departure for our virtual training ship is scheduled for 26-27 October 2021. For more information and to express interest in attending, head over to our Introduction to Shipping page. 
 
We look forward to welcoming you aboard for this fantastic opportunity!
How much is a safety appliance worth? When someone's life depends on it then it's literally priceless.
 


When the engineer of the watch (EOW) on a ro-ro was doing his rounds, he heard loud metallic knocking sounds coming from the engine room. It was clear that something was very wrong.
 
On opening the engine room door, the EOW saw smoke rising from the main engine. As the noise and vibrations increased, he ran back to the purifier room and took cover – just in time, as there was a loud bang and flames shot past the door. Quickly, visibility reduced to zero as the space filled with dense black smoke.
 
Realising that the main escape route forward was unsafe, the EOW tried to leave via the aft end of the engine room. However, there was no emergency escape breathing device (EEBD) there. When he reached the first vertical ladder, he struggled to get past the guard rail chains and fell back three times before finally making it up to the vehicle deck, where he collapsed. Fortunately, he was found by crew members and taken to hospital by helicopter.
 
The EOW was lucky to survive the smoke inhalation. Had there been an EEBD by the aft escape ladder, though, his exit would have been far less traumatic. As the full MARS report concludes, "EEBDs are not an onerous expense. Due consideration should be given to fitting all escape routes on vessels with EEBDs."
 
This report is free to read online thanks to our Nautical Affiliates, whose support means that the MARS lessons learned can be shared across the industry for the benefit of all. Why not ask your organisation to become an Affiliate? 
Book of the Month – Mentoring at Sea

Once a month The Nautical Institute offers one book from its list at a sharply discounted price. You can be sure the content will be both authoritative and practical.
 
Book of the Month is an opportunity to buy that title you've had your eye on but perhaps hesitated to buy. But don't hesitate now: this offer is strictly time-limited!
 
Captain André Le Goubin FNI writes in an easy, conversational style that makes the subject accessible to all. Mentoring is an informal process of knowledge exchange that's best undertaken during shipboard operations. Passing on the knowledge that only comes with practical experience is a time-honoured way of learning at sea, and as valuable today as it ever was.
 
Ten minutes is all it takes to get started, Le Goubin explains, as he guides us through effective mentoring techniques. Knowledge exchange works both ways, so the mentor benefits from the process too. The aim should be to create on board a culture of mentoring.
 
Le Goubin concludes: "Learning is a lifelong occupation" – and Mentoring at Sea is a good place to start.
 
Order Mentoring at Sea for the special price of £36.00 (normally £60, or £42 for NI members) via the online bookshop, quoting code BOTM at checkout. Offer available from 1 to 31 August 2021.

Pierre de Mattos Fuly MNI (pictured) is among the first people to be awarded a DPVM Logbook via the grandfathering pathway. Using this route, applicants may apply for a logbook to complete the requirements of the DP Vessel Maintainers' (DPVM) Scheme if they have either (a) completed the NI-accredited DP Knowledge for Technical Staff course, or (b) can demonstrate 150 sea time days in a technical/engineering capacity on board DP vessels over the past five years.
 
Pierre was kind enough to tell us why he applied for DPVM certification and the value of scheme for DP engineers like him.
 
"The possibility of having DP knowledge enhanced by the NI is a unique opportunity. With the DP Vessel Maintainers' certification this possibility has become a reality, Marine engineers can now receive certification that attests our DP knowledge and skills through the NI.
 
"I believe that this certification is a milestone in DP's history and that marine engineers should seek this certification if they wish to demonstrate to companies that their ships are properly managed by DP technical personnel who can respond quickly, appropriately and effectively when adverse situations affect the DP system.
 
"In the medium and long term, customers will be safer knowing that contracted ships have full DP operators and DP vessel maintainers certified by The Nautical Institute."
 
Interested applicants should contact dpvm@nautinst.org for further information.
Sustainability is the watchword today for businesses and consumers. As an organisation committed to best practice and the UN's Sustainable Development Goals, The Nautical Institute keeps a close watch on its own practices.

Recently we've been reviewing the sustainability of our publications. They are made from paper, and paper is made from trees. Is chopping down trees for books really sustainable?

The answer is yes! All NI books and magazines are printed on paper that's been certified by the Forest Stewardship Council. FSC ensures that for every tree cut down at least one more is planted, only local workers are employed, and they're paid a fair wage. Some of our printers are using 'carbon-balanced paper' certified by the World Land Trust.

Better still, our printers use water-and vegetable-based inks that are naturally biodegradable – just like paper. Waste products from the book production processes – paper, cardboard, wood, plastic, solvents, inks, printing plates, varnish, oil and packaging ‑ are all recovered, repurposed or recycled.

We're excited to hear of a brand-new product (announced a few days ago) from one of our suppliers. It's a book-cloth called Toile Ocean, which is woven from recycled plastic waste recovered from our seas. What could be more appropriate?

We'll continue to insist our suppliers abide by the highest practical environmental standards. When you buy an NI book you're always buying 'green'.
Communications confusion leads to collision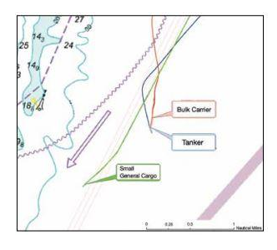 Poor communications form a recurring theme in our MARS reports. Sometimes it's due to language barriers, in other cases it's a mistaken assumption about what was meant. Occasionally, as in this example, what is understood turns out to be the opposite of what was intended.
 
The Master had the con on a tanker underway in darkness in a busy TSS. A bulk carrier, on a converging course at 16kt, was preparing to overtake the tanker, which was proceeding at 13kt.
 
As both ships approached a narrower part of the traffic lane, the bulk carrier's OOW called the tanker on VHF to clarify its intentions. The bulker's OOW told the Master (who had not listened to the conversation) that the tanker's bridge team did not want to be overtaken on the starboard side. The Master accordingly altered course to pass the tanker on its port side.
 
In fact, this was not what the tanker's team had said ‑ they expected to be passed on their starboard side. The confusion led, almost inevitably, to a collision, fortunately without serious consequences.
 
Full details of the incident, and lessons learned, can be found in the MARS report, which is freely accessible on our comprehensive MARS database.
Come and work for The Nautical Institute

The NI has emerged from the pandemic in a strong position. To help us serve both the industry and our membership, we're pleased to be able to offer two new positions, offering lots of scope for career development. Both posts will be largely based in our attractive London HQ, though some 'blended working' may be possible too.

Applicants should possess excellent English language and digital skills and must be able to prove they have the right to work in the UK.

Assistant Manager, Member Engagement

This proactive and driven individual will develop member engagement through the Institute's network of more than 50 volunteer-run branches around the world. Our branches are at the heart of our activities.

The successful candidate will play a key role in expanding this network and helping existing branch officers deliver high-quality technical events and recruit new members.

The aim is to create a dynamic network that supports the Institute's vision of providing inspiration, knowledge and leadership to maritime professionals.

There will also be opportunities to contribute to the wider membership effort, specifically through managing the Younger Members' Council and supporting applications for 'member benefit' courses.

More details can be found on the NI Job Board, or email hr@nautinst.org. Deadline for applications is 9 August 2021

Technical Adviser* 

We are seeking a passionate and experienced individual for our Information and Publications Department.

The Technical Adviser will help to develop our industry-leading publications and to source articles for our membership magazine, Seaways, and other NI periodicals. The work involves liaising with a multinational pool of authors, peer reviewers, industry experts and organisations.

The successful candidate will have seagoing cargo experience and knowledge of the issues faced by ships' staff, particularly those on the bridge. A relevant maritime qualification is important, and preferably a degree too.

If you're interested, please see full details of the position here. Send your CV and covering letter to hr@nautinst.org by 6 September 2021.

* This is a re-advertisement. Previous applicants need not reapply.