MarISOT (TUAS) and Fraunhofer CML in strategic  collaboration for advanced research in autonomous shipping.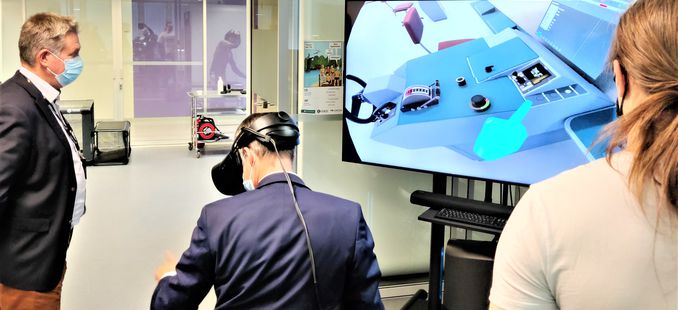 The extensive and state of the art research delivered at TUAS on the MarISOT technology attracted the attention of Fraunhofer Center for Maritime Logistics (CML) and opened opportunities for strategic research collaboration on the field of autonomous vessels.
MarISOT (Maritime Immersive Safe Oceans Technology) is an immersive maritime training VR environment backed up with an intelligent engine that integrates AI, behavioral science and cognitive/neuroscience in its VR environments and applications.   MarISOT provides a unique and immersive VR maritime training experience but also a wealth of data sets and analytics related to the delivery of the training scenario, the attention and mental state of the trainee during the training.     
The technology is being developed by TUAS academics Prof Dr. Mika Luimula and Prof. Dr. Evangelos Markopoulos and their team at the Futuristic Interactive Technologies Group at TUAS and has been funded by Business Finland.  
The Fraunhofer Center for Maritime Logistics and Services CML develops innovative solutions for the maritime sector and the maritime supply chain and global leaders on advanced R&D and in Maritime technology covering several sectors from advances navigation systems to autonomous vessels technologies.
The MarISOT technology impressed Prof. Dr. Jahn and initiated a promising strategic collaboration for joint research and the integration of Fraunhofer CML technologies in MarISOT. 
A detailed presentation of Prof. Jahn's visit to TUAS can be found at: https://www.tuas.fi/en/articles/466/joint-research-possibilities-autonomous-seafaring/