The Blue MBA's Irene Rosberg is appointed to the programme board of a new Polish-based Executive MBA in offshore wind energy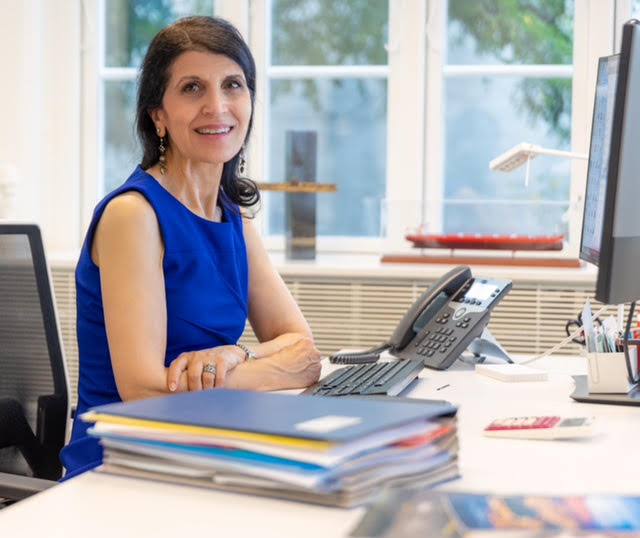 Irene Rosberg, programme director of the Executive MBA in Shipping & Logistics (the Blue MBA) at Copenhagen Business School, is to contribute her expertise to one of the world's first executive MBAs devoted to the offshore wind sector.
Ms Rosberg has been appointed a member of the programme board for the Gdynia Maritime University Executive Offshore Wind MBA. The board will help guide what is the first executive MBA of its kind in Poland.
Her appointment is a tribute to her role for more than 20 years in building the Blue MBA, with its sharp focus on all aspects of shipping and associated industries and services, into the international leader in its field.
The Gdynia programme board comprises prominent representatives of offshore wind organisations, academic institutions, and industry experts.
Gdynia Maritime University is already partnering with two academic bodies that are leaders in delivering management and specialist programmes for the offshore wind industry. These are the University of Applied Sciences Bremerhaven; and Business Academy SouthWest based in Esbjerg and Sønderborg, a school of applied science within the Danish higher education system.
"It is our hope that thanks to relations with key industry stakeholders, the Executive Offshore Wind MBA will become an essential component of the sector's expertise, personnel, and innovation ecosystem," said Andrzej Popadiuk, director of the Offshore Wind Energy Centre at Gdynia Maritime University.
"Ms Rosberg's extensive knowledge and experience will be invaluable in shaping the content of our MBA programme."
Irene Rosberg said: "It is an honour to be invited to support Gdynia Maritime University's initiative which is highlighting the importance of excellence through management education in this facet of the global energy transition."
The Gdynia programme is dedicated to professionals working in this key part of the renewables industry, and those looking to start a career within the area.
The board says that participants will develop sophisticated competencies and gain comprehensive knowledge of managing offshore wind energy organisations. "Graduates will possess a unique skillset for the Polish and European offshore market, as well as an internationally renowned qualification – the prestigious Executive Offshore Wind MBA."
Networking and sharing experiences with programme peers will allow participants to establish strong professional and business contacts and inspire creativity and innovation.
The offshore wind MBA programme has a similar philosophy to that of the Blue MBA. Delivered in English, it is designed for part-time study, so that it can be combined with professional life. It has a holistic approach, seeking to develop a range of wider management and leadership skills.
The board will meet once a year to examine trends in the maritime and offshore spheres and how the programme can respond to those developments. The first meeting is planned for February 2022.