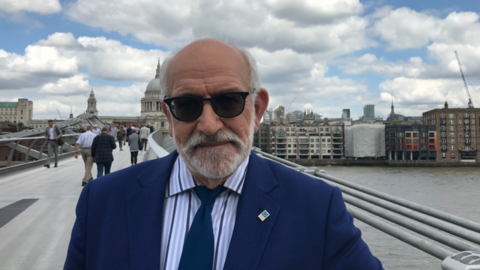 Midweek Market blues as the BDI fells under 2,600 points threshold and Wets follow suit. Ukraine is the biggest set up and actors involved do not know their role as the script was too complicated… Shame, shame, Shame… Covid's resurge will cause more mess. John Faraclas' brief midweek recap:
The BDI (Baltic Dry Index) was down 98 points since esterday and now reads 2,591…
The Capes' BCI was down 191 losing both the 2,700 and 2,800 points threshold and now stands at 2,632…
The Panamaxes' BPI was down 99 points and now reads 2,847 losing its 2,900 points threshold…
Supras' BSI lost the 2,900 points threshold and now stands at 2,876 – minus 25…
The Handies' BHSI managed to remain firm with 22 points plus and now stands at 1,601 – over and above the 1,600 points threshold… at least some good news…
Wets fell too; the last published BDTI (Dirties) and BCTI (Cleans) stood at 1,268 – minus 11 and 1,019 – minus  13 points respectively
The WTI was down US$ 1.40 at US$95.04… Let's hope it drops although uncertainty and other "markets" might invigorate same… Did I hear you say Venezuela or Iran…? Time will tell…
The Geopolitical front continues to be more than blur given the deadlock of the Ukrainian mess… Shameful, supposed to be "leaders", sacrifice humans and human values for a fistful of dollars… Remember, Nemesis never forgets. The worse is yet to come. Watch this space…
Inflation hits the entire Planet Ocean as well as Energy issues. Who is going to pay the final bill..?
Over 3,000,000 have left Ukraine adding to six million more MIGRANTS from Syria, Afghanistan, Libya to name a but few nations over the last decade … Thousands of homes have been flatten… thousands are dead including children and babies… I guess the revenge one day will be incalculable…
Covid's re-surge will create many more problems…
What an interesting 2nd day that was in London's ExCel, the venue for Oi2022 (Oceanology International) which ends tomorrow. The technological achievements are beyond description and imagination; excellent. The Conference presentations more than unique and promising. Over 30 on-stand launches and presentations. OCEAN ICT, part of Oi2022 was there to focus on the growing demand and interest in the cutting-edge of marine and ocean IT, communications, satellite and data solutions!
Have a nice evening but continue to remain on guard from actions emanating from Pirates, Terrorists, Criminals and any Business Hooligans whatsoever wherever you are on Planet Ocean. Once again a big THANK YOU to all who really care for all humans – Doctors, Nurses, Seafarers, Dockers, Port Authorities et al during this Coronavirus disaster!! We repeat: Do please invest in Hospitals including Equipment, Doctors, Nurses and any useful means to avoid further disasters! Become more disciplined and care for the Environment too. As for the mess in Ukraine, you have not seen anything yet as well as its spread… Lastly: Education and Training for all to be able to tackle these disasters. Let us work collectively together and NOT opt for a fistful of Dollars to restart the already collapsed global economy… which is in red over US$ 350 (three hundredandfifty) trillion…