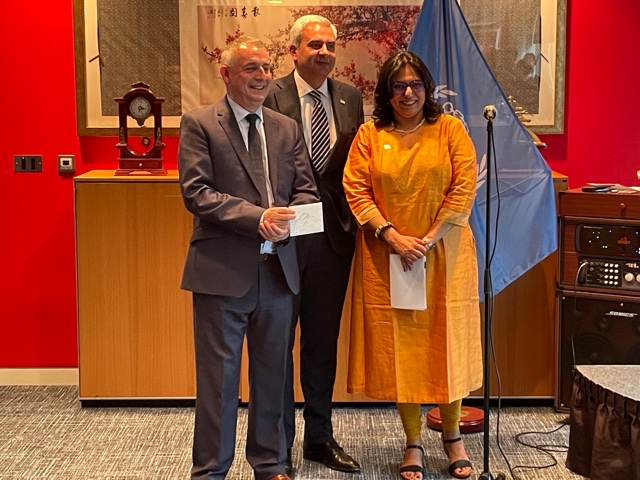 The Annual National Indian Maritime Day Event took place IMO, Planet Ocean's iconic Shipping HQ's
The Indian Maritime Association UK celebrated last night the 58th Annual Indian National Maritime Day at the IMO and it was our first visit there since Covid appeared.
The Chair of the Association Monica Kohli, Senior Lawyer at the Gard UK and president of WISTA UK, spoke about the origins of the Indian National Maritime Day – 5 April 1919 when the SS Loyalty owned by the Indian company Scindia Steam Navigation Company first sailed from Mumbai to UK, and the beginnings of the IMA UK (1984) to build bridges between the United Kingdom and India -both great maritime nations with a long shared history. She also mentioned the loss of an industry stalwart and donated to Seafarers Charity in the name of Capt Jiterndra Misra, founder of Emarart Shipping company and mentor to many, who passed away earlier this year. He was also the father of IMA UK Vice Chair Akshay Misra, Senior Associate, InceGD.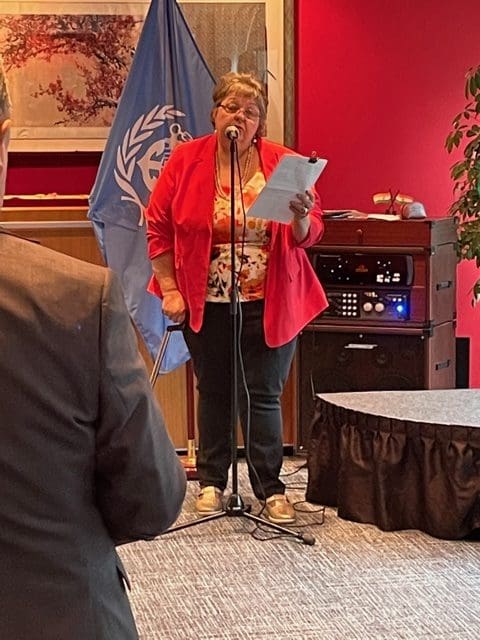 Maria Dixon, CEO ISM Shipping Solution, and one of WISTA-UK's former presidents, and a champion of seafarers rights spoke passionately about the seafarers suffering through the pandemic, the wars and still going strong but underappreciated and unsung. She clarified that without seafarers – no shipping and no shopping. She mentioned that she had gone on LinkedIn to get her contacts to represent seafarers in one word and she read out all the words that were forwarded to her but pointed out that not one said PRIDE . It was fitting that we should have pride in our seafarers and celebrate them. In her emotional tribute to seafarers she also clarified that Indian seafarers were the second largest community of seafarers and we should all be doing our best to protect them and ensure that they were prevented from being exploited by unscrupulous agents and middlemen.
Rahul Khanna – Global Head of Marine Risk Consulting, Allianz, Vice chair of IMA UK in his vote of thanks mentioned how touched he had been with Maria's speech and that he felt guilty for not thinking about giving back more to the community despite being an ex seafarer, and his comments were echoed by a lot of ex-seafarers in the room. He also thanked Quadrant Chambers and Waves group for their generous sponsorship for the event.
Mike Allen, Corporate Partnerships Manager from Seafarers Charity called on everyone to donate generously and spoke about the work of Seafarers Charity.
The venue was iconic as was the view from the balcony of the IMO – …Father Thames, Westminster, Big Ben and the London Eye with the setting sun behind it. The balmy spring weather, Indian food – obviously, and a generous bar enabled guests to mingle and enjoy, meeting after years and across sectors- lawyers, insurers and oil majors, Class, Charities, experts and industry bodies; we spotted Yash Kulkarni QC, Steve Cameron MD, Patrick Verhoeven, Amar Chopra, Vija Goel, Raal Harris, George Bazos, Ravi Kant, Dennis Kelly, Paul Dixon, Maria Borg Barthet, Mike Allen, Arvind Natrajan and Prakash Subramanian.
To join IMA UK – visit the website www.imauk.org.u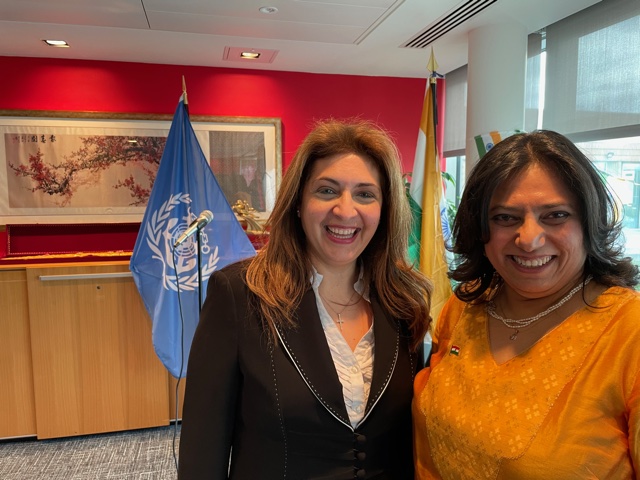 -Lucky upon entering the IMO HQs to meet after almost two years Kitack Lim, the Secretary General, exhanged quick views on the current situation and receiving the organisation's new pin in five minutes…