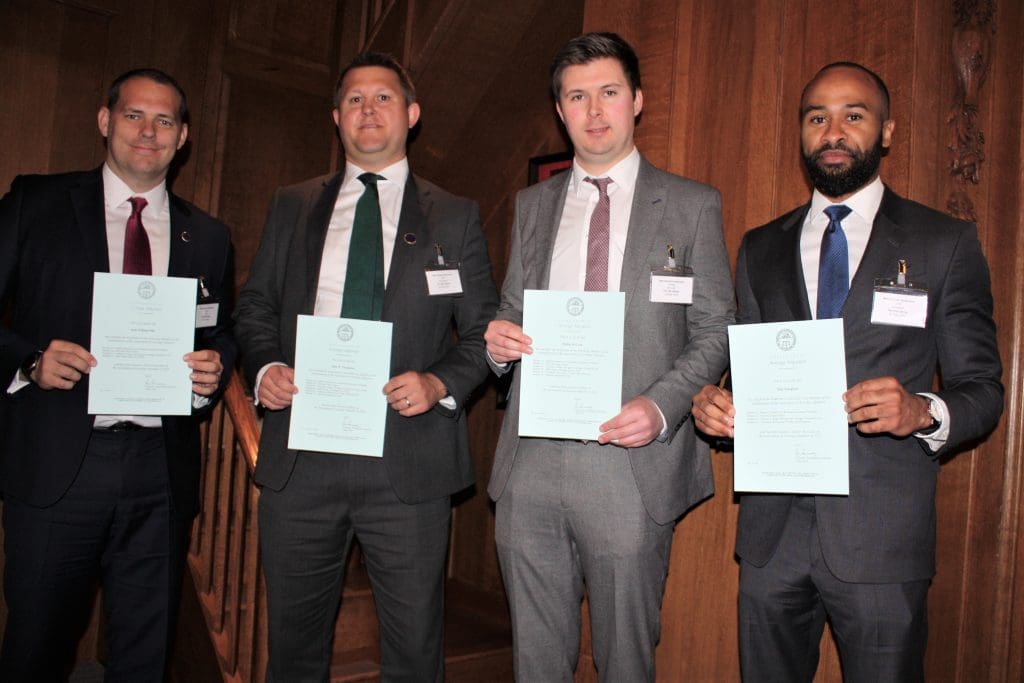 The Association of Average Adjusters has congratulated two new Fellows and two new Senior Associates after they qualified on passing the Association's most recent examinations.
Phillip McCabe and John Thompson have become Fellows, and Jack Ellis and Ayodeji Sasegbon are now Senior Associates.
Association chairman for 2022-23 Michiel Starmans congratulated the four members for their success in the rigorous examinations which test participants on a wide range of expertise in adjusting, insurance, and legal issues.
Liverpool-based Mr McCabe joined Richards Hogg Lindley in August 2013. He has handled a variety of hull and machinery claims, predominantly in the Indian, Gulf and Singaporean markets. He also has experience in handling loss of hire claims and has been involved in large security collection cases. He gained additional experience and market exposure during a 12-month secondment to RHL's Singapore office in 2016. He qualified as an Associate of the Association of Average Adjusters in 2014 and as a Senior Associate in 2021. He has a BA degree in geography.
Mr Thompson joined the Liverpool office of Richards Hogg Lindley in 2011 where he works as an average adjuster. He has spent time seconded to the RHL Singapore office. He studied maritime disciplines at Cardiff University, becoming MSc and BSc.
Mr Ellis has worked at Willis Towers Watson in London since 2011 and is associate director in the average adjusting practice, which has a broad range of clients. He has experience with particular average, General Average, and loss of hire claims. He holds a BSc degree in biochemistry from Imperial College London.
Mr Sasegbon, known as Deji, is a senior associate solicitor in the London office of Campbell Johnston Clark. Earlier, he worked for eight years in the London office of a leading provider of professional services to the global insurance market. He has extensive experience of ports and terminals, cargo, marine liabilities, yacht, and average adjusting matters. He has also worked with a leading International Group P&I club. He is a former chairman of the Lloyd's Marine and Energy Under 35s Insurance Group, having also served as secretary, treasurer, and vice-chairman.
Senior Associates are Associates who have passed module F1 (General Average, salvage, and the Carriage of Goods by Sea Act) plus one module of either F2 (hull & machinery, loss of hire, war risks, cargo) or F3 (collisions, recoveries, freight). Fellows are those who have passed all these modules plus module F4 (practical adjustment).
Each year the Association awards a prize if merited to an outstanding candidate in their achievement of Associateship. This year the award has been won by Jenny Chu Wing Yin of Asia Maritime Pacific (Hong Kong). After a delay because of the suspension of in-person gatherings during the pandemic, the equivalent Associateship award for 2020 was formally presented to Giorgio Cavallo of Studio Cavallo, Genoa.
Mr Starmans paid tribute to the work of David Pannell, who is stepping down as convenor of the Association's examining committee after 23 years' service. At the annual meeting of Fellows of the Association on May 11, 2022, Mr Pannell was elected an Honorary Life Fellow of the Association in recognition of his role in being the driving force behind the changes from the old examination format to a modern, modular system. Mr Starmans said that Mr Pannell "highlighted the worrying decline in exam candidates in his address [as then chairman of the Association] in 1998 and decided to head up the examining committee from 1999 to 2022 to turn this around. And so he did, as we now have 49 Fellows, 11 Senior Associates and 150 Associates. Half of these Fellows and all Associates qualified under his leadership."
Succeeding Mr Pannell as examining committee convenor is Keith Martin.
The Association of Average Adjusters promotes professional principles in the adjustment of marine claims, uniformity of adjusting practice, and the maintenance of high standards of professional conduct. Irrespective of the identity of the instructing party, the average adjuster is bound to act in an impartial and independent manner. The Association plays an important part in London insurance market committees and has strong relationships with international associations and insurance markets.
Please see www.average-adjusters.com