ESG mindset, funding, collaboration and "filotimo"
HELMEPA's game changer event on Sustainable Shipping brought together over 420 shipping stakeholders who attended a lively debate between top leading shipowners and cross-industry executives on the role of shipping in the energy transition, and the technologies and management approaches required to progress the sector's sustainability agenda.
Funding decarbonization, strengthening collaboration and cultivating 'filotimo' i.e. love of honor were the event's main headlines, along with the finding that companies and organizations that embed a mindset focused on sustainable development will prevail as industry leaders.
HELMEPA Chairperson, Semiramis Paliou, said during her welcome speech: "The coffee we drink, the cereals we eat, the clothes we wear, the car we drive, the fuel to heat and cool our houses, medical supplies, and the cement to build our houses are just a few examples of how dependent we are on Shipping. The world needs shipping, and, because of that, shipping needs to be sustainable. HELMEPA's event was hugely important in progressing a conversation central to the shipping industry's future. We all seek to ensure we make the industry sustainable and aligned with the key climate goals towards which governments, regulators, and other key stakeholders are working."
Prestigious panel of speakers included Athanassios Martinos (Managing Director, Eastmed), Simeon Palios (Director and Chairman, Diana Shipping Inc), Nikolas Tsakos (President and CEO, TEN Ltd), Suzanna Laskaridis (Director, Laskaridis Shipping), Milena Pappas (Commercial Director, Starbulk Carriers & HELMEPA Board Member), Aristeidis Pittas (CEO, Euroseas Ltd & EuroDry Ltd & HELMEPA Board Member), Nick Brown (CEO, Lloyd's Register), Dorothea Ioannou (CEO Designate, American P&I Club), Myladie Stoumbou (Senior Regional Director, Microsoft), Christos Tsakonas (Global Head of Shipping, DNB), Christopher Wiernicki (Chairman, President and CEO, ABS) and Mads Peter Zacho (Head Industry Transition, Mærsk McKinney-Møller Center for Zero Carbon Shipping). Conference agenda was developed and moderated by Panos Zachariadis (Technical Director, Atlantic Bulk Carriers Management Ltd. and HELMEPA Board Member), Nigel Lowry (Athens Correspondent, Lloyd's List) and Olga Stavropoulou (Director General, HELMEPA).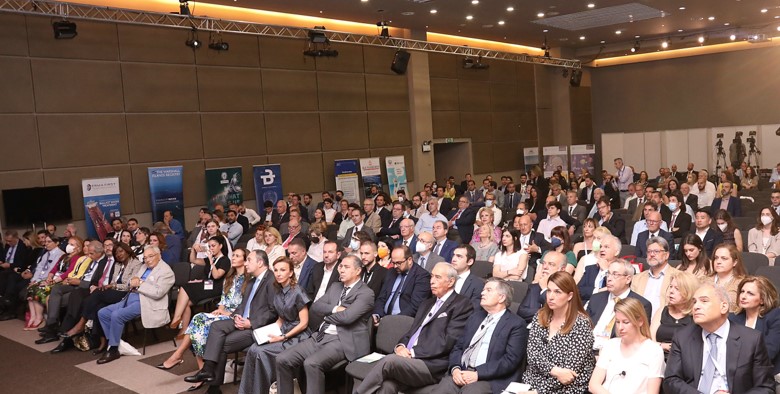 Addresses were delivered by Minister of Maritime Affairs and Insular Policy, Ioannis Plakiotakis, the President of the Union of Greek Shipowners and Chair of the Board of Neptune Group of Companies, Melina Travlos, and the IMO Secretary-General, Kitack Lim (recorded). Moreover, the first Director General of HELMEPA (1982), Rear Admiral Panayiotis Kosmatos provided the delegates with a special edition on the 1st UN conference on the environment (June 1972) that gave birth to the Stockholm Declaration.
The event was organized on June 8th, designated by the United Nations as World's Oceans Day and it concluded with an empowering message "We can Save the Seas, Let's Do It" expressed by two young scientists from the American College of Greece with which HELMEPA collaborates within the framework of the BiG focus initiative that connects shipowners and maritime executives with students and professors in Logistics, Shipping & Transportation and Sustainability to work together.
During Posidonia 2022, HELMEPA's stand attracted visitors' attention and received positive comments on the sea-experience concept that gave visitors the chance to connect with the marine environment. Long-standing and new members, collaborators, supporters, volunteers, and friends, passed by, got informed and took selfies while a series of meaningful activities were carried out such as training and mentoring sessions, Blue Generation guidance, plastic footprint awareness, academia – market connection, live polls, MoU signing, etc.)
Special thanks were addressed to the Posidonia organizers for providing HELMEPA the opportunity to bring together change makers who can make an impact and can "turn the tide" so oceans become part of the solution to address climate change, rather than the victim. It is noted that today, HELMEPA's membership encompasses 265 shipping companies and organizations, 2030 vessels of all types and more than 14,000 seafarers.