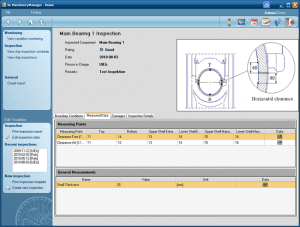 The audit covered an assessment of not only the machinery, monitoring equipment, and software used by Nico International, but the training programmes in place and the qualifications of its experts and inspectors. The presence of an implemented and certified quality system to ISO 17025/17020 was confirmed, as well as documented procedures and instructions for carrying out vibration monitoring measurements according to the relevant ISO standards.
"Reliable vibration monitoring trend data which has been generated by qualified and experienced engineers are fundamental to implementing a condition-based maintenance system for rotating machinery, such as, for example pumps, electric motors and fans, " says GL condition monitoring expert Jörg Rebel. "A condition based monitoring system can help to avoid not only unexpected and expensive machinery break-downs and unneeded planned maintenance, but unnecessary open-up inspections."
Sherif Magdy Azzam, the Deputy District Manager of GL's District Office in the UAE, said: "Nico International has been building their competence in vibration monitoring and diagnostics of shipboard and land-based rotating machinery over several years, and this certification confirms that they meet the relevant GL and international standards."
Paul Blake, the ship Repair Director of Nico International, said: "Nico International continues to extend and upgrade its capabilities by investment in technology and training to provide a superior service to its clients. This has recently been further recognised by Nico International achieving accreditation by one of the major Classification Societies, Germanischer Lloyd, for its vibration monitoring & reporting service and by Nico International securing long term fleet contracts for the provision of vibration monitoring & reporting services."
Continuous condition monitoring of machinery onboard merchant vessels can help to control and benchmark equipment performance and GL offers the survey arrangement "Condition Monitoring", where such components are covered by an approved condition monitoring scheme. The condition information generated by the scheme can be used in surveys, which helps to avoid unnecessary open-up surveys. The survey arrangement takes into account measurements, inspection results and trend curves.
GL has been involved in vibration monitoring projects onboard commercial vessels for nearly ten years. Most recently, the first installation of the prototype for the GL MachineryManager system took place – a system which supports ship owners, managers and operators in the implementation of condition-based maintenance processes. It allows all of the information generated from online, offline (e.g. handheld monitoring units), and visual inspections of machinery and equipment to be integrated into a common platform – irrespective of manufacturer. An early warning system alerts superintendents and fleet managers to potential problems, both in individual vessels and across a fleet.
About Nico International
Nico International (part of the Topaz Marine Engineering Division), is one of the leading ship repair companies in the Middle East / Gulf region where it has been operating for over 37 years. Engaged in all types of marine repairs, it's extensive capabilities include major conversion, fabrication & refurbishment; engine overhauls & reconditioning; mechanical, hydraulic & machine shop services; electrical services including motor rewinding; turbocharger services; fuel pump & governor services; automation & instrumentation services (Dart Automation); main & auxiliary boiler inspection & repair services (in collaboration with Doosan Babcock); transmission & gearbox services (Twin Disc); and underwater services which includes Class accredited in water surveys, hull cleaning, propeller polishing, anchor recovery & salvage operations. Nico International is accredited to ISO 9001, ISO 14001 and QHSAS 18001.
About Germanischer Lloyd
Germanischer Lloyd (GL) offers classification services of plan approval, inspection and certification of materials and components as well as technical assessments of ships in service. Its "Maritime Solutions" unit supports customers around the world through software solutions, management systems certification and training as well as consulting and engineering services. GL's experts serve as advisors to governments, the IMO, flag and port states. The group is committed to a smarter, safer and greener future of shipping.
*delayed due to an electricity problem