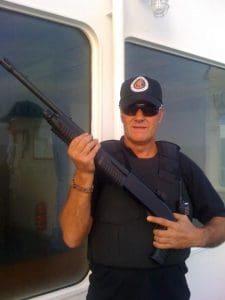 Private Maritime Security expert Sea Marshals has gained ISO9001:2008 approval in a month which saw the company protect a record number of vessels transiting the Gulf of Aden – up 22% on the previous month.
To cope with this increasing demand the company has hired 20 additional qualified ex-military British security operatives this month and also intends to boost levels at its UK Operating Base in Cardiff, which currently stand at 15 OPS personnel
Sea Marshals Chief of Operations, Thomas Jakobsson, said: "We are busier than we have ever been which demonstrates the industry's recognition of the effectiveness of armed onboard security teams and is testament to the professionalism of our maritime operation. We are shipowners ourselves and we can easily understand the needs of our clients. That's why we employ mainly UK security operators and team leaders and work according to IMO and Bimco-Guardcon standards, while complying with Flag State requirements." 
"By utilising advanced planning systems and effective use of our resources we are able to provide a first class service at competitive rates, " he explained. "Moving to a new and larger headquarters has enabled us to expand our operational centre and our in-house training facilities – something that has greatly enhanced our operating capabilities and helped us cope with demand."
Sea Marshals new staff will undergo the company's comprehensive in-house training which includes further understanding and integration of maritime conventions such as STCW95 and dangerous cargoes. Staff and team leaders in the field also have access to the sophisticated company communication network which enables further training online.
As Thomas Jakobsson points out: "We have never failed to make a transit, thanks to good planning and our experienced and well-trained personnel."