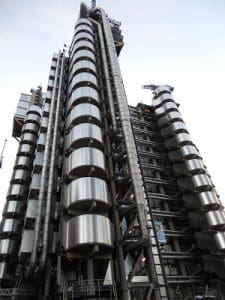 Fri 22 Mar 2013 – Following independent research Lloyd's has been certified as one of Britain's Top Employers.
Britain's Top Employers recognises organisations that take excellent care of their employees and provide exceptional working conditions. Lloyd's certification is based on research conducted by the CRF Institute, which specialises in international employment practices and standards.
The CRF Institute undertook a year-long study into the HR policies and practices of a large number of employers in Britain, including Lloyd's, through objective HR policy-based research.
This review process was also subject to an external audit conducted by accountancy firm Grant Thornton. It examined organisations on the following criteria: employee primary and secondary benefits; working conditions; training and development; culture management and career management.
Only those organisations that met the stringent research criteria received the Britain's Top Employers certification. Lloyd's scored strongly in all areas, with 4.5 out of 5 stars for primary and secondary benefits and culture management as well as 4 out of 5 stars for training and development and career management.
Lloyd's CEO Richard Ward said: "We give our employees the opportunity to deal with a wide array of challenges – and they tackle them head on. We work hard to create a supportive working environment that rewards success and takes people to the peak of their potential. Staff are able to move from one department to another, pursue international opportunities and sample different aspects of the business before specialising. I am always struck by the number of people who say they are proud to work for Lloyd's – this year it was 93% – I hope we are making them proud as well."
Sarah Gravestock, a Personal Assistant in Claims Management, is one of that 93%: "There's a sense of family here, people make an effort to get to know you rather than you just being someone on the end of the telephone or at the end of an email. Working for Lloyd's you get a fantastic work-life balance. I know of very few companies that offer this flexibility, it creates a positive working environment and one where you feel valued."
Louise Cook, Senior Actuarial Analyst in Market Reserving and Capital agrees: "Lloyd's leads the way in the insurance market and is at the forefront of many interesting and developing areas. As an employee, I feel valued – the structured, regular appraisal process helps me to keep track of my progress and reflect on my achievements. Also, I always make the most of additional benefits which Lloyd's has on offer for example flexible benefit allowance, onsite nurse or subsidised canteen. I am always proud to tell people that I work for Lloyd's."
To view Lloyd's winning profile and for more information on the awards please visit Britain's Top Employers 2013.
(source: Lloyd's of London)