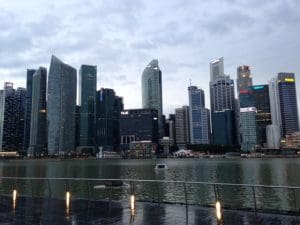 Global CEOs enter an era of "stable instability"
(source:Lloyd's of London website)
 The global economy has entered a new era where risks that once seemed improbable and remote are real for CEOs across the world
"Expect the unexpected" is the new mantra for business leaders around the world, according to PwC's 16th Annual Global CEO Survey Dealing With Disruption. Against this background of uncertainty, created by climate change and geo-political instability for example, chief executives are looking to insurers to help them navigate a more complex environment.
90% of insurance industry leaders contacted by PwC as part of its survey are confident about revenue growth for their companies over both the next 12 months and next three years. But at the same time, the survey's findings highlight a number of challenges facing insurance companies.
Asked about policy and economic threats to business growth, insurance CEOs identified over-regulation and lack of stability in the capital markets as their key concerns. In the context of business threats, the number one worry was the limited availability of key skills to cope with a fast-evolving marketplace, new ways of working, and a fresh approach to organisational design.
Around three-quarters of insurance industry leaders are planning to change the way they manage talent and organise their businesses. Encouraging mobility is an important aspect for CEOs as their companies reach into new and potentially unfamiliar markets. More than half are looking at ways to give future executives more international experience and promote greater diversity in the leadership pipeline.
According to Jim Bichard, PwC's London Market Insurance leader, the trend has big implications for the London market. "London has a fantastically deep pool of talent and is a recognised centre for specialist underwriting. The challenge is leveraging that asset to achieve growth. To increase the volume of business going through London means having smart people in growth markets sourcing and distributing business, " Bichard told lloyds.com.
Going for growth
Asked about growth markets, insurance CEOs see opportunities in emerging economies in Asia, Africa and Latin America. Asia is the strongest focus for business expansion, with more than 80% of industry leaders targeting all regions other than Central Asia for expansion.
Bichard believes that London market companies will have to work hard to achieve growth because London is already established as a global hub. "London is still heavily dominated by the US and the UK domestic market so the London market could do more in Europe and also in emerging markets, for example in Asia, " he said. "With so much specialty business, especially coming into London, how do you grow? You have to continue to innovate. You have to look for new lines of business and products that add to the mix.
It won't be easy. Developing competitive scale in key emerging markets is challenging for Western insurers, because of licensing and ownership restrictions, the report states. And even where the door is open, competition is intense and prices and margins are declining as companies struggle to build market share.
To compound this, the move to new and unfamiliar markets is exposing insurers to risks for which they have little or no data. The $12 billion losses from the Thai floods of 2011, prominently from supply chain and business interruption claims coming from other countries, were a wake-up call.
Investment in IT to increase
PwC's report indicates that the most proactive companies are increasing investment in new technology, with 86% of industry leaders planning to increase investment in technology over the next 12 months; more than any other commercial sector in the wider CEO survey.
Meanwhile, advances in customer profiling and risk analytics are opening the way for a new generation of fully customised "smart" policies.
"For the last three or four years insurers have been focussed on regulation but now the focus is switching to IT transformation, improving efficiency, speed and taking costs down, " Mr Bichard says. "To retain its edge the London market must ensure it keeps up to date with developments in IT."