Among the Nordic stock exchanges, Oslo Børs has the most new listings and the most active capital market.
The Danish company Napatech became the tenth company so far this year to list its shares on Oslo Børs when it rang the stock exchange bell at nine o'clock this morning, and more companies – both Norwegian and international – are heading for a listing.
"We are seeing a steady stream of new companies turning to Oslo Børs and the Norwegian capital market. Oslo is becoming the new financial capital for the Nordic region. We have more new listings, and more capital is raised in the Oslo market than elsewhere in the Nordics", comments Bente A. Landsnes, President and CEO of Oslo Børs.
Link Mobility Group and Atlantic Petroleum have been approved for listing. Both these companies are expected to be listed in the next few weeks.
"We are experiencing a lot of interest from foreign companies. Many companies, both Norwegian and international, are knocking on our door with plans for a listing in Oslo. Access to the skills of the Norwegian financial sector and its strong distribution capacity is an important reason for companies to prefer listing on Oslo Børs rather than on other marketplaces. In addition, we offer a straightforward, speedy and flexible listing process, together with a market that provides a high level of visibility for listed companies. This is all about providing the best access to the capital markets", adds Bente Landsnes.
More new listings than the other Nordic markets
The strong flow of new company listings on Oslo Børs is in stark contrast to our Nordic neighbours. In Stockholm and Copenhagen there have been scarcely any new listings on the regulated stock exchange markets over the last two years. Since 2005, as many as 202 companies have been listed on Oslo Børs. This is more than the combined total of new listings in Stockholm, Copenhagen and Helsinki.
(Chart: New listings on regulated Nordic exchanges 2005-2013)
The most active equity capital market
Companies listed on Oslo Børs also make much more active use of the capital market than is the case for other Nordic exchanges. Figures from the Federation of European Securities Exchanges (FESE)  show that while companies raised EUR 1, 645 million of new share capital in the Norwegian market in the first 10 months of this year, the combined new issue volume on the other Nordic exchanges was EUR 52 million.
(Chart: Oslo Børs vs NASDAQ OMX Nordic exchanges)
So far this year, companies listed on Oslo Børs have raised NOK 18 billion of new share capital. The listing of BW LPG in November helped to push this year's total ahead of last year's NOK 18.5 billion. BW LPG issued shares to raise NOK 3.1 billion, which was one of the largest new issues in the Norwegian stock market since 2011. Other newly listed companies such as Odfjell Drilling and Ocean Yield also helped to boost new issue volumes. Newly-listed companies have accounted for NOK 7.6 billion of the total new issues this year.
Bond market sets new records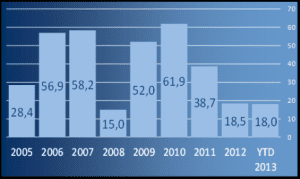 New issue activity in the Norwegian bond market is running at record levels. The total raised in the bond market over the first eleven months of the year, excluding government borrowing, was NOK 246 billion. The Norwegian bond market has grown rapidly over recent years, and new issue activity has set new records year after year. The growth of the bond market reflects changes in the banking market, with the banks having to reduce their participation in financing business and industry. This has resulted in companies making greater use of the securities market and the stock exchange to raise loan capital.
(Chart: New share issues on Oslo Børs and Oslo Axess (NOK billion))
In parallel with this, the bond market has become more accessible. In 2005, Oslo Børs established an alternative marketplace for listing and trading bonds and short-term debt instruments known as certificates. This alternative market quickly proved successful, and with 900 listed issues it now has more issues and issuers than the traditional Oslo Børs fixed income marketplace. As part of its emphasis on the Nordic dimension, Oslo Børs this year announced a change in name for the alternative marketplace from Oslo ABM to Nordic ABM. Nordic ABM targets bond issuers throughout the Nordic region, and a number of Nordic issuers already have bonds listed on Nordic ABM.
"The bond market has become an increasingly important source of financing for Nordic companies. Everything is in place for Nordic ABM to be used by business and industry throughout the Nordic region for both bonds and certificates", adds Bente Landsnes.
Flexible listing process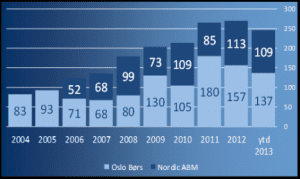 Earlier this year, Oslo Børs expanded its range of listing services by adding a flexible listing process. The flexible listing process is an alternative to the normal listing process and the fast-track listing process. A more flexible process gives companies seeking listing more scope to adapt the pace of the listing process in relation to both general market conditions and the company's own requirements.
"We offer a speedier and more flexible listing process than comparable exchanges", states Bente Landsnes.
(Chart: New fixed income issues on Oslo Børs and Nordic ABM (NOK billion))