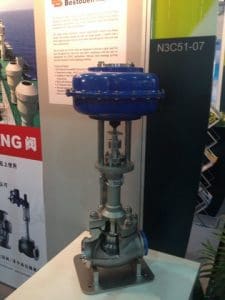 Bestobell Marine, part of the President Engineering Group (PEGL), had a great response from delegates at Marintec (3-6 December), the largest marine trade show in Asia, where the company demonstrated its expertise in supplying cryogenic valves to the international shipbuilding industry.
The company attended the exhibition in Shanghai alongside its agent Heathlead, as part of its strategy to develop its cryogenic valves business even further within the marine sector in Asia.
Bestobell Marine demonstrated its lifesize DN100 Globe Valve with pneumatic actuator, which gave delegates an insight into the innovative features of the company's cryogenic valves that are widely used for LNG marine applications across the world.
Duncan Gaskin, Sales Director for Bestobell Marine, said: "This is the second time we have exhibited at Marintec, which was a great show and a fantastic opportunity to showcase Bestobell Marine to the Chinese LNG market. We generated some exciting new sales enquiries and are hoping to secure a large order very soon for a major LNG carrier project at a leading Chinese shipyard, following discussions that took place at the show."
Marintec China attracts exhibitors and visitors from across the maritime industry.  It had almost 1, 650 exhibitors and over 50, 000 visitors during the four day show.
China is at the forefront of developments in the use of LNG in the marine sector, as the Government seeks to convert the Chinese fleet of Yangtze river vessels and coastal ships to burn LNG as an environmentally friendly fuel, in a bid to reduce pollution levels.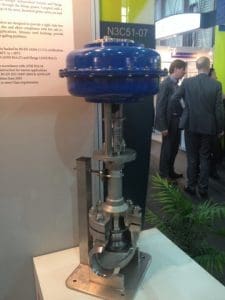 Duncan Gaskin continues: "Through our local partner Healthlead Development Ltd Bestobell is looking to be a major supplier of cryogenic valves for this upcoming new market and will continue to develop our business for LNG carrier construction."
Regarded as the 'gateway to the Asian maritime market', Marintec China has grown to be the largest, most recognized maritime trade show in Asia. Marintec China is an international marketplace for buyers to source from international sellers showcasing their latest marine, ship design, offshore engineering and port technology.
Bestobell Marine is a world-leader in the manufacture of cryogenic valves, with over 15 years' successfully supplying to the LNG marine markets.
The company designs and produces valves to meet specific requirements in the marine sector and has supplied cryogenic valves to a majority of the major shipyards building LNG Carriers internationally.