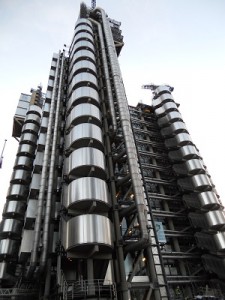 Insurers watch their aggregates after Europe's worst sequence of storms in over 20 years. 
The UK and parts of Europe saw the most severe sequence of storms since 1990 in December 2013 and into the New Year, with wind gust in excess of 90mph, extensive flooding, power outages and widespread disruption over the holiday season as storm after storm moved in from the Atlantic. (source: Lloyd's of London)
The clustering of these events is a particularly significant characteristic of the recent stormy weather, explains Dr Milan Simic, managing director of AIR Worldwide. "When storms start happening there is a tendency for multiple storms to form, whether in the space of two or three days as we saw around Christmas, or within the space of several weeks. But it doesn't mean a whole season is going to be stormy."
Windstorm Christian (called St Jude in the UK) signalled an early start to the European winter storm season when it smashed into Southern Britain on 28 October 2013, causing insured losses of between EUR1.5bn and EUR2.3bn across the UK, France, Netherlands, northern Germany, Denmark, Sweden and Russia, according to AIR.
The activity continued relentlessly in December with Windstorm Xaver moving through the north of the continent on 5 and 6 December producing insured losses of around EUR800m, according to Aon Benfield's Impact Forecasting, with Scotland, Germany, the Netherlands, Belgium, Scandinavia and Poland most affected.
The closest cluster of storms moved in over the holidays with Dirk, Erich and Felix hitting the UK and France between 23 and 27 December. While these wetter storms had less intense wind speeds than October's Christian and Xaver, they caused widespread flooding in both coastal areas (as a result of storm surge) and inland, as a result of swollen rivers and waterlogged soils.
The significant precipitation contributed to December seeing 154% of the UK historical average rainfall for that month, according to RMS. In Scotland it was the wettest December since records began in 1910.
Counting the cost
To date, the winter storms are likely to cost insurers an estimated EUR3bn ($4bn), which is within expected losses given historic loss experience, says Simic.
By comparison, the most destructive European winter storm of the last 25 years was Daria, which struck the UK, France, Netherlands and Germany in January of 1990. A recurrence of Daria today would be expected to cost insurers around EUR10.5bn ($14.2bn), according to AIR. Winter storm Lothar, which cost insurers $7.5bn in 1999, would cost $10.4bn in today's figures, according to Impact Forecasting.
In the UK, losses from flooding caused by the storms could cost the industry up to £400m ($657m) according to estimates from PwC. Mohammad Khan, insurance partner at PwC, said: "Although the impact on individuals and businesses over Christmas has been severe, the 1, 800 properties impacted so far does not compare to the 2007 storms where approximately 55, 000 homes and business' were adversely impacted.
The triplet of storms in late December was created by a deep and persistent "Icelandic Low" near the surface, according to Impact Forecasting climatologist Alexandros Georgiadis. "It allowed a big number of storms to develop and propagate in its south flank, towards Europe and the UK, " he explains. "This is an unusual circulation setting that modulates this season's activity, yet it is not unprecedented. We have seen similar meteorological conditions in 1990 (Daria, Vivan and Webke) and in 2007 (Kyrill) seasons."
Clustering can happen with relatively weak storms, as demonstrated by December's triplet, or with very powerful ones, like 1999's Lothar and Martin, which were separated by 36 hours and caused billions of Euros in damage.
Aggregate effect
While individually the late December storms were relatively weaker than storms in recent history (Kyrill in 2007, Klaus in 2009 and Xynthia in 2010 for example), it is the losses in aggregate that are beginning to mount for insurers, explains AIR's Simic.
"All the storms were relatively wet, so in addition to the fact we had relatively high wind speeds we also saw a lot of rain accompanying the storm, " he explains. "In a sense that was probably a blessing in disguise because some of the strongest storms historically have been dry storms. The wet ones tend not to have extremely highly wind speeds."
"What we're seeing now is additional losses from flooding, " he continues. "As the ground became more saturated, which is what we saw in the triplet of storms, the percentage of claims attributed to floods rather than wind remained relatively high at around 40% to 50%, and it was really difficult in some cases to separate the loss."
"The other complexity introduced was storm surge, or coastal flooding versus inland flood, " he adds. "Information from loss adjusters suggests the cost of claims from coastal flooding for equivalent heights of water is greater than it is from inland flooding because you're dealing with salt water and therefore the cleanup costs are proportionately higher."
The dramatic storm surges responsible for much of the coastal flooding along the southwest coast of England came about through a combination of high tides and surge waters. The storms coincided with a series of exceptional tides, with higher tides due in early February, warns Robert Muir-Wood, chief research officer at RMS.
"The succession of large and intense low pressure weather systems has been a function of a very strong and stable jet stream, fed by the strong contrast between the warm tropical Atlantic air masses and intensely cold arctic air over North America, " says Muir-Wood. "Although this sequence cannot be directly linked with climate change, coastal flooding will be more common in the future while winter rainfall totals are expected to rise."
Polar vortex
While Europe was being pounded by a succession of winter storms, on the other side of the Atlantic arctic winds spiralled across North America, plunging much of the continent into a polar vortex. US airlines cancelled about 20, 000 flights and schools and businesses were closed as people were warned to stay indoors.
The extreme winter storm brought heavy snow, freezing rain and ice to the central and eastern US as well as eastern Canada, causing the greatest amount of disruption to the country since Superstorm Sandy in October 2012.
One estimate from business weather intelligence firm Planalytics put the economic cost of the cold snap at $5bn "because of the sheer size of the population affected, about 200 million people". Insurance Information Institute president
Robert Hartwig said the country was dealing with an "epidemic of frozen and burst pipes", adding that insurers have paid an average of $1.4bn a year on winter storm claims over the past 20 years, according to III statistics.