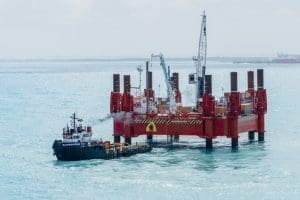 Fugro features in three categories of this year's prestigious Ground Engineering Awards. The shortlist, which was announced on Wednesday, 26th February, reveals the company's nomination for Ground Investigation Specialist of the Year.
For the Technical Excellence Award Fugro has two nominations – one for its powerful T120 pile-top drill, which is helping to reduce development costs at the Westermost Rough offshore wind farm, and the other for its drilling activity during the Costa Concordia salvage operation. Its innovative WaveWalker 1 walking jack-up platform has been nominated in the Product and Equipment Innovation category whilst as part of a CH2M Hill project, the company is aiming for success in the International Project of the Year category.
"This is a record number of short-listed nominations for us, " says Tony Hodgson, Global Business Development Manager for Fugro Renewable Services. "Recognition of our geotechnical and geophysical expertise and successful execution of an extensive range of UK and international projects, both on land and in the marine environment, have helped us towards the nomination for Ground Investigation Specialist of the Year."
The recent opening of Fugro's extended soils laboratory in Wallingford also supported the submission. The £1 million-plus investment has brought plaudits from clients, the industry as a whole, journalists and, most recently, the local Member of Parliament Ed Vaizey.
The winners of the awards will be announced on 14th May at a ceremony in London.
ABOUT FUGRO
Fugro creates value by acquiring and interpreting Earth and engineering data and by supporting its clients with the design, construction, installation, repair and maintenance of their infrastructure. Fugro works predominantly in energy and infrastructure markets offshore and onshore, employing approximately 12, 500 employees in over sixty countries. In 2012 Fugro's revenues amounted to € 2.2 billion, it is listed on NYSE Euronext Amsterdam and is included in the AEX-Index.
ABOUT THE GROUND ENGINEERING AWARDS
The GE Awards shortlist features companies that are truly excelling in the geotechnical and geo-environmental engineering field. Further information can be found online: www.geawards.com