Italy's new rules limiting marine traffic in Venice's Giudecca Canal are illegitimate, a court says. The successful lawsuit against the decision taken by the Italian Government last November to limit large cruise ship traffic in the Venice lagoon was filed by Venezia Terminal Passeggeri, a cruise terminal, and the decision just comes before the cruising season kicks-off. Ezio Dal Maso, Senior Associate at Stephenson Harwood writes:
According the ruling, the number of cruise ships of more than 40, 000 tonnes authorized to cross the Giudecca canal should have been cut by 20% from 2012 (with a cap of five a day) and the biggest vessels – of more than 96, 000 gross tonnes – banned from November 2015. The former Italian Prime Minister Enrico Letta approved the plan to limit or shut down cruise ship traffic in parts of the Venice lagoon and near the city's famous Saint Mark's Square amid concerns by residents and environmentalists that the increasing cruise ship traffic could damage the fragile city, one of the world's most popular tourist destinations. According to a survey of the Venice Port Authority published in February 2013, Venice is the third cruise port in Europe with more than 1, 700, 000 passengers a year and cruises generate more than euros 435, 000, 000 of revenues to local businesses representing about 6% of the city's GDP.
Operators had complained about the vagueness of the ruling and the uncertainty about the time when cruise lines would have been notified that their ships would have been barred from entering Venice. Facing the difficulties of the cruise industry, a few days ago a spokesman of the government pledged to find a solution, either by finding a new route to Venice's current Stazione Marittima cruise terminal or build a new terminal farther away. The new route to Stazione Marittima terminal should be Contorta-Sant'Angelo a new branch of the Malamocco-Marghera Canal, which would take cruise ships farther away from Venice's most renowned areas. But many city residents and environmentalists say digging out the canal, which would be necessary to accommodate large cruise ship traffic, will do too much damage to the city and its eco-systems.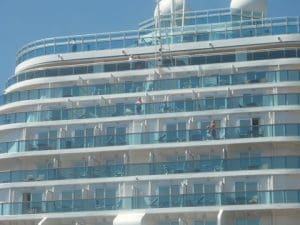 However, the administrative court of Venice, however, agreed with the arguments raised by VTP that the ban was illegitimate. In particular, the court criticised the Italian government for having failed to arrange an alternative before imposing the limits for not having provided satisfactory evidence that ships of more than 40, 000 tons would be more dangerous than smaller vessels.
The decision is immediately effective, although an appeal to a higher court is possible.
Ezio Dal Maso
Stephenson Harwood