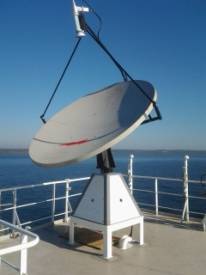 NEW YORK, March 24, 2014 – (Marine NewsWire) Maritime Broadband Inc. announced today that DRYNET GmbH, Kiel, Germany, has been appointed as agent of the Company's groundbreaking C-Bird™ VSAT in Germany.
Mary Ellen Kramer, CEO of Maritime Broadband, is very confident that DRYNET Maritime Communication Solutions and Consulting has the expertise, experience and track record to effectively build awareness and sales of C-Bird in their market.
"DRYNET founder and managing partner, Holger Ritter, is one of the leading experts on the communication needs of commercial shipping, " said Mary Ellen Kramer, CEO of Maritime Broadband. "Mr. Ritter has distinguished himself as a leader in serving our market with years of valuable contributions to companies like IBM, Boeing, and most recently, MTN Satellite Communications. We are indeed fortunate to partner with DRYNET to deliver 'Real Ocean Broadband' in Germany and throughout Europe."
Ritter echoes Kramer's enthusiasm when explaining the strengths of Maritime Broadband's C-Bird VSAT communications solution.
"Commercial shipping companies are challenged to find cost-efficient broadband for their vessels, this is mainly driven by their needs for crew Internet and IT Integration, as well as new applications supporting ECDIS, Performance Monitoring and Predictive Maintenance, " said Ritter. "From our perspective, Maritime Broadband's C-Bird offers the best value and price/performance in satellite communications for commercial maritime users. It is easy to deploy, yet robust and powerful with global coverage, unlimited data and very attractive pricing. It delivers exactly what commercial shipping companies need today and completes DRYNET's solution portfolio in a very attractive way."
As a channel partner headquartered in one of the world's most important shipping markets, DRYNET will have the complete support of Maritime Broadband Inc. for all sales and service. Both parties are looking forward to a long-term relationship and commitment.
For further information, please contact Mary Ellen Kramer, CEO, Maritime Broadband Inc. at +1 (347) 404-6041 or mkramer@maritimebroadband.com.
About DRYNET
DRYNET GmbH (www.drynet.de) specializes in innovative, efficient and functional solutions for shipping companies in the fields of satellite communications, IT Security Solutions, management and integration of vessel applications with shore-based infrastructure and independent consulting. With our brand IQSeaTM we provide comprehensive, independent and unbiased consulting with the focus on satellite and mobile communication. A complete range of quality solutions from leading providers allows us to offer our customers tailor-made solutions, varying from sourcing, installation to engineering, project management and training. Through a worldwide network of partners we are able to provide global service.
For further information, please contact: Holger Ritter, Managing Partner DRYNET GmbH, at holger.ritter@drynet.de
About Maritime Broadband
Maritime Broadband Inc. (www.maritimebroadband.com) offers a unique telecommunications solution for the commercial maritime sector. The C-Bird™ is a C-Band VSAT system that offers seamless global data and voice service at an affordable price. The Company is headquartered in New York.
"Jo"