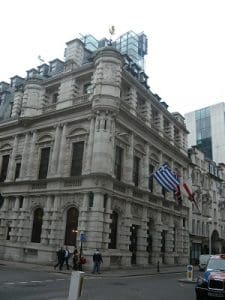 New app version available of Lloyd's Register's issues-driven magazine
The survival of the ocean is the lead theme of the seventh issue of Insight, Lloyd's Register's issues-driven magazine for clients and other industry stakeholders. We rely on the sea as a food source, for supply chain distribution, for pleasure and for its balancing effect on the climate. Insight takes a look at the threats to the ocean and ways to ensure a sustainable future. It includes an interview with Helle Gleie, Director of the Sustainable Shipping Initiative.
As usual, the magazine covers others topics of interest across the business sectors that Lloyd's Register (LR) serves from tidal energy, shale gas, future marine fuels, management systems and food safety to a new award-winning biomass freight wagon.
Obtain a copy
Insight can now be downloaded on iTunes and Google Play:
The Google Play url is https://play.google.com/store/apps/details?id=com.lr.insightmagazine
The iTunes url is https://itunes.apple.com/gb/app/lloyds-register-insight/id623310216?mt=8
or as a pdf from the LR web site www.lr.org and hard copies can be requested via the web site or email to lloydsreg@lr.org
Contents in full
• Ocean under threat: Global Ocean Commission
• Is shipping a dinosaur? interview with Helle Gleie, Director, Sustainable Shipping Initiative
• Silencing troubled waters
• Plastic not fantastic: Ocean Recovery Alliance
• Singapore set to be Asia tidal market gateway
• The customer is king: how belief-based consumption is driving food supply chain sustainability
• Boarding school: using human factors techniques to improve the airport experience
• A perspective on unconventional oil and gas
• India: another BRIC in the wall
• Impact and excellence: interview with Professor Richard Clegg, Director of the Lloyd's Register Foundation
• Change, survival, responsibility: the evolution and benefits of corporate sustainability and social responsibility
• Pushing the limit: a new supersize biomass freight wagon
• Integration as standard: implications of ISO standard revisions
• Future marine fuel
• Oil sands conundrum
• Safety combination for nuclear power
Lloyd's Register (LR) is a global engineering, technical and business services organisation wholly owned by the Lloyd's Register Foundation, a UK charity dedicated to research and education in science and engineering. Founded in 1760 as a marine classification society, LR now operates across many industry sectors, with over 9, 000 employees in 78 countries.
LR has a long-standing reputation for integrity, impartiality and technical excellence. Our compliance, risk and technical consultancy services give clients confidence that their assets and businesses are safe, sustainable and dependable. Through our global technology centres and research network, LR is at the forefront of understanding the application of new science and technology to future-proof our clients' businesses.
Working together for a safer world
Lloyd's Register and variants of it are trading names of Lloyd's Register Group Limited, its subsidiaries and affiliates.